Sciontec opens up flexible working space at The Spine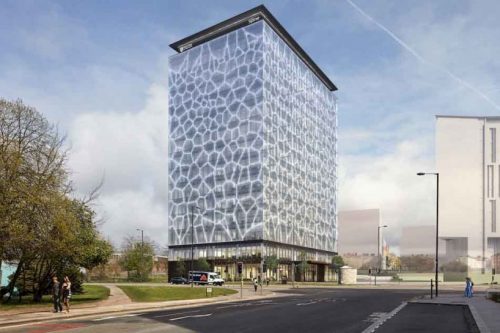 Sciontec Developments has launched a new offer aimed at small firms within its Liverpool location, RCP at The Spine, at the Knowledge Quarter Innovation District.
The facilities, known as Sciontec AI, are within the Royal College of Physicians' (RCP) space on the first and second floors of the new building and will range from a single desk to a large private office.
Occupants will have four options, based on a single monthly payment, designed to provide businesses with the flexibility to move around the Sciontec portfolio with ease, depending on their needs.
Colin Sinclair, CEO of Sciontec, said: "As we emerge from the pandemic it's clear that the demand for serviced office type accommodation, with flexible terms, has significantly increased. Smaller businesses that were thrust into working from home are eager to get back into the real world and into an environment where those accidental, yet welcome, interactions with like-minded people and businesses can happen."
The RCP moved into The Spine in May 2021 and, as the building's anchor tenant, occupies seven of the 14 floors.
Ian Bullock, CEO of The Royal College of Physicians, said: "Sciontec's ambition for providing world class office accommodation perfectly complements our own mission to create healthy, inspirational spaces for our own employees, members and fellows to enjoy. The Spine is also our thriving education and assessment centre and we are delighted to be working with Sciontec to attract a vibrant community of like-minded, innovative companies to the building."
Sciontec has already welcomed its first trio of businesses to the space, with the Pandemic Institute, LYVA Labs and KQ Liverpool already in occupation.