Global tech firms first to sign up to £18m Violet development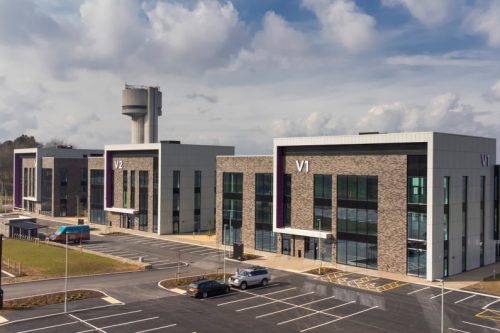 Two global firms are the first to take space in Sci-Tech Daresbury's £17.8m Violet development.
Australia's Blackmagic Design and China's Geek+ will make the site their respective UK headquarters.
For Blackmagic Design, the location will also be its base of operations for Europe, Middle East and Africa (EMEA).
The business is one of the world's leading innovators and manufacturers of creative video technology and has created some of the most talked about products in the creative industries. It has taken the entire 19,000 sq ft V1 building within the Violet development.
Stuart Ashton, Blackmagic Design director, said: "Sci-Tech Daresbury is a vibrant community with outstanding facilities that will bring a lot of energy to our business. The North West is a thriving hub for innovation with access to many leading technical colleges and universities that will be important to our future growth and success."
Geek+ is a Beijing-based technology company that specialises in smart logistics, boasting a significant market share in global AMR (autonomous mobile robots) markets and leading the global smart logistics revolution.
The company will employ at least 30 staff at the Sci-Tech campus. The move to set up a UK base has been driven by the growing number of businesses that are turning to automation and AMRs to boost their competitiveness.
The UK office will enable Geek + to provide a full range of Al-driven robotics solutions to customers across the country. It will occupy 4,300 sq ft of office space across two floors, in addition to a 2,050 sq ft Experience Centre which will enable the showcasing of the company's technologies.
Geek+ already has a connection to Sci-Tech Daresbury, with UK and Ireland partner Breathe Technologies using Techspace Two as a base to deliver warehouse automation systems, software and services to customers such as GXO, Pets At Home and QVC.
Simon Houghton, Geek+'s head of sales for UK & Ireland, said: "We are really impressed by what Sci-Tech Daresbury and Violet have to offer. From the high quality offices, lab space and workshops to the R&D, leisure and catering facilities – everything is all in one location, and it provides the perfect base from which to grow our business in the UK.
"We are looking for local talent to join the Geek+ team and help develop our brand in UK. With our brilliant new base at Sci-Tech Daresbury, we believe we can nurture a powerful team and support our expansion in UK."
Violet was officially handed over by contractors Willmott Dixon in February. The development comprises 43,000 sq ft of speculative Grade A office and innovation space, coupled with the highest energy efficiency standards, for dynamic, forward thinking science and technology focused businesses.
Violet is expected to create or support 332 full time equivalent jobs and has received £8.4m cornerstone funding from the Liverpool City Region Combined Authority, consisting of a £2.5m loan from the Urban Development Fund, together with £5.9m from the combined authority's Chrysalis Fund, both funds being managed or advised by igloo Investment Management.
The development encompasses two buildings, V2 and V3, providing 12,000 sq ft each and one building, V1, of 19,000 sq ft. Each building entails floor plates of around 4,300 to 6,300 sq ft.
John Downes, chief executive of Langtree and chairman of Sci-Tech Daresbury, said: "We are very excited to welcome Blackmagic Design and Geek+ to the Sci-Tech Daresbury family. These international companies prove that Violet has made the campus an extremely desirable location for cutting edge and scaling businesses from across the world and this expansion of our community is yet more evidence that the North West, and specifically the Liverpool City Region, is taking great strides in supporting the UK's progress in being a technological superpower."
Steve Rotheram, Mayor of the Liverpool City Region, said: "I want to make the Liverpool City Region the most digitally connected region in the UK so that we can tackle digital exclusion, attract new businesses and entrepreneurs, and create well-paid, secure jobs for local people.
"It's an approach that we're seeing bear fruit, as this news shows. We want forward thinking, innovative international businesses to call our region home."
In December, planning approval was granted by Halton Borough Council for Ultraviolet, which is located next to Violet and forms the next phase of development within Sci-Tech Daresbury. Ultraviolet will comprise a further 180,000 sq ft of Grade A office and laboratory space.