'Modest' revenue growth for Victorian Plumbing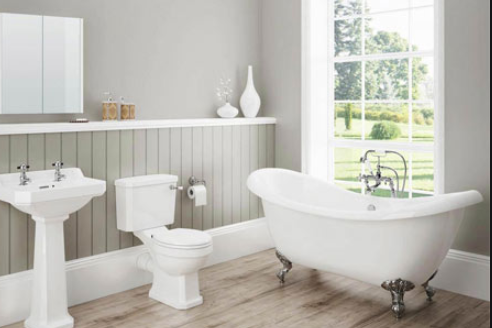 Online bathroom retailer, Victorian Plumbing, said it expects to achieve "modest" year on year revenue growth in the second half of the year, and will continue its "careful approach" to price rises, it announced today.
It follows publication of its first half figures covering the six months to March 31, which revealed a fall in revenues from £140.7m in 2021, to £133.9m. Pre-tax profits of £2.7m compared with £14.5m the previous year.
Net cash stood at £33.7m, up from £22.3m a year ago.
No dividend is recommended, but the board said it intends to pay a final dividend for the full year.
It said the results reflect a tough comparable period resulting from market outperformance during COVID-19 related lockdowns when customers chose to upgrade their homes.
The Lancashire company said it has managed "a step change" in the scale of business over the past 18 months.
Total orders for the six months ended March 31, 2022, were 453,000, a 31% increase from pre-pandemic levels and just seven per cent down from the first half of 2021, during which the UK was under severe COVID-19 restrictions.
The average order value was up two per cent to £296, compared with £289 a year ago.
Victorian Plumbing has also invested in its technology platform, which will enable it to drive future growth. Work continues on the development and testing of its website re-platform, which will give it the opportunity to enhance the customer journey over the coming months. Work also continues on the development and testing of a new Trade app, to enhance efficiency and engagement for trade customers.
Trade revenue grew by 18% to £24.6m in the first half, during which the company launched its first targeted trade radio campaign.
Looking ahead, the company said revenues in the first half of 2022 were in line with recent guidance. The group focused on increasing market share and invested more heavily in marketing in the early part of the first half to successfully drive market share gains. That marketing spend has now normalised, as planned.
The group said it expects to deliver modest year on year revenue growth through the second half, as previously guided in the February AGM statement. It said there are well-reported ongoing inflationary cost pressures and it remains acutely aware that customers are also managing these pressures. It said: "The group will, therefore, continue its careful approach to price rises through the second half of the financial year."
Mark Radcliffe, founder and chief executive, said: "Victorian Plumbing remains the go-to online retailer for consumers who are looking for bathroom products. Our market leading proposition and our innovative and proactive approach to marketing have enabled us to continue growing our market share, even against a challenging market backdrop.
"Following a nine-month period during which the economy was opening up after COVID-19 restrictions and discretionary spending has been more focused on leisure activities, our relentless focus on investing in quality and innovation has resulted in revenue growing 39% on a two-year basis.
"I am pleased with the progress we have made with our technological developments, and I am excited about the opportunities presented by our new website. This new platform will enable us to further penetrate our core market and provide the best possible base for us to further expand our trade and adjacent product areas.
"We continue to be focused on our long term goals. We are making good progress on all of our strategic initiatives and are confident in the future growth prospects of the group."