Water boosting manufacturer acquired by Surrey based pump servicing firm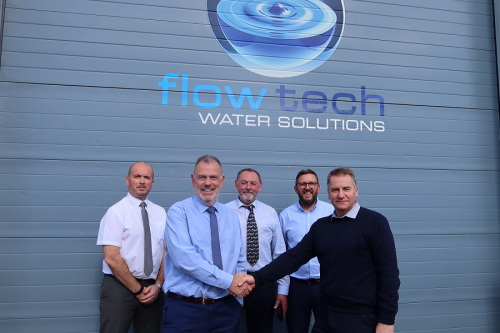 A Greater Manchester manufacturer of water booster products has been acquired.
Wigan-headquaretred Flowtech Water Solutions Holdings has been sold to PumpServ, a pump servicing and distribution company based in the South East of England.
Flowtech and its subsidiary Flowtech Water Solutions supply a range of products including water boosting equipment, pressurisation units, valves and filtration equipment for customers across the UK in a range of commercial markets.
They employ around 25 staff and have a turnover of around £4m.
The deal is expected to provide accelerated growth through partnership working within the sector.
Andrew Leech, managing director, Flowtech, will retire, while Martin Donaldson, managing director, and Paul Havard, business development director, will continue to operate the Flowtech Water Solutions brand within the PumpServ group.
The corporate finance and transaction tax team at accountancy and business advisory firm MHA Moore and Smalley advised Flowtech on the deal.
Martin Donaldson, managing director, Flowtech Water Solutions said: "The addition of Flowtech Water Solutions into the PumpServ family aligns perfectly with our ambitions to grow the business and enhance our reputation as a truly specialised pump engineering company.
"With the exception of the management team, there will be no changes to the existing structure at this time."
Matt Magee, chief executive, PumpServ, said: "The obvious synergies between PumpServ and Flowtech will accelerate our growth plans and we are tremendously excited about the opportunities this acquisition will bring to both businesses".
MHA Moore and Smalley's advisory team was led by Ian Waddingham.
Taxation advice was provided by Rachel Marsdin and Richard Hall provided accountancy support. David Filmer, partner at Forbes Solicitors, provided legal advice to the shareholders.
The buyers were advised by Legal Clarity and Elsburys Accountants.
Ian Waddingham, associate director, MHA Moore and Smalley, said: "Flowtech Water Solutions is a well-established business with a strong customer base and will make an excellent addition to PumpServ's family of companies as it looks to the next stage of its growth over the coming years."