Planning granted for second X1 student scheme in Salford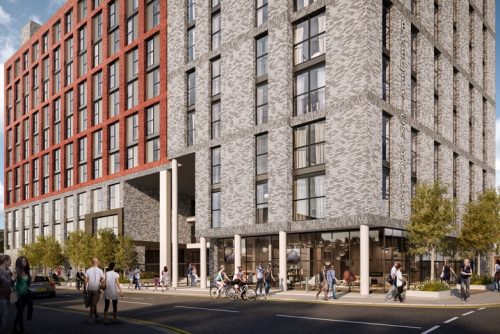 Zerum has achieved consent for a student accommodation scheme in Salford, on behalf of developer X1.
The Cheltenham Street development will provide 353 student studio apartments across 10-15 floors with a range of on-site facilities in a sustainable location across the road from X1's existing student development, x1 The Campus.
Residents at the new site will have access to laundry facilities, secure bike storage as well as unrivalled transport links across the North West, located just five minutes' walk from Salford Crescent station.
Nikki Sills, divisional director at Zerum, the Manchester-based planning, project management and cost management company, said: "Salford is home to a community of students which continues to expand, and this scheme will provide apartments for many with a whole host of incredible amenities."
Melissa Green, head of operations at X1, said: "Our existing development – X1 The Campus – has remained at 100% occupancy since its opening and the team at X1 Sales & Lettings have a growing database of residents waiting to secure an apartment for immediate occupation.
"We look forward to providing a response to the increasing demand for high quality, yet affordable, living for those studying in Salford and launching the development to the rentals market."
X1 Sales & Lettings is a sales, lettings and property management company working with more than 4,000 landlords across the UK to ensure the long term stewardship and profitability of properties in their care.