Rochdale sprinkler business latest to become employee-owned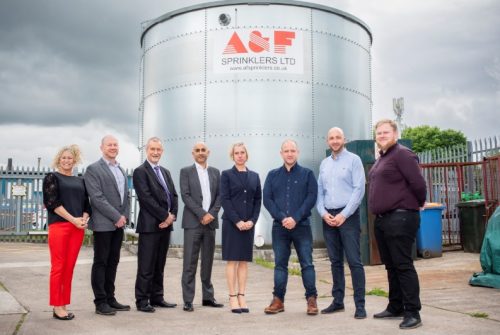 Rochdale-based A&F Sprinklers has become an employee-owned business.
The £30m turnover business was purchased in October 2005 by Mark and Lesley Stansfield.
They are transferring 80% of shares to an Employee-owned Trust (EOT) for the benefit of employees. Mark Stansfield will remain managing director.
A&F Sprinklers, which employs 82 office staff and 61 field operatives, specialises in the design, supply, installation, and maintenance of automatic sprinkler systems.
It supplies high profile retailers, commercial and residential sectors, as well as distribution and construction industries. Clients include Dunelm, Hotel Chocolat, Next, Sainsbury's, and Waitrose.
Mark Stansfield said: "It's such a proud moment to be able to hand over ownership of A&F Sprinklers. Transferring ownership into our team's hands ensures our culture and values live on, which was one of the most important factors to us in considering any next chapter for the company."
He added: "We firmly believe this next chapter as an employee-owned business is just a reward for the hard work and talent of our brilliant team. Becoming employee-owned is about maintaining and building on our unique culture. Creating a great place to work is fundamental to our business principles, and we're excited about the next stage of A&F Sprinklers' journey."
The transfer was supported by teams at Azets and Ramsdens. A&F Sprinklers was advised by Tariq Javaid & Karen Sadler at Azets. Stephen Newman at Ramsdens provided legal advice.
Tariq Javaid, corporate finance partner at Azets said: "A&F Sprinklers is a business exceptionally well suited for employee ownership, being an organisation with a strong culture, firmly established values, and an emphasis on the quality of its people."