City round-up: Immotion Group; Surface Transforms; Hotter Shoes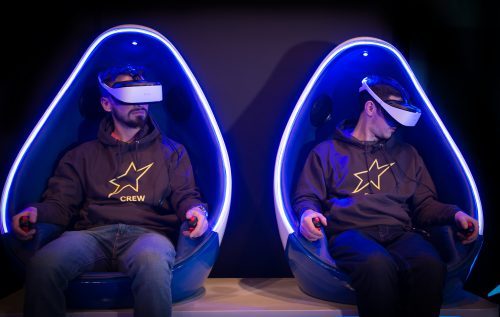 Salford-based virtual reality group Immotion today released an update ahead of its annual general meeting, in which it confirmed that trading in the first five months of the current financial year is well ahead of the same period last year.
Unaudited revenue in the core Location Based Entertainment (LBE) business for the five months to May 31, 2022, was £3.4m (2021: £1.5m), a 127% increase. The company has seen very strong trading in June so far, the second half of which benefits from the US school holidays, and it said it now looks forward to the busy summer period in its key markets.
Its 40-seat installation at Milwaukee County Zoo is expected to open within the next few days and its 24-seat installation at Pittsburgh Zoo is expected to open in July, following a short delay as a result of awaiting a necessary permit.
Immotion has also recently opened a new six-seat installation at Audubon Aquarium of the Americas, New Orleans, USA and early trading has been very positive, it said.
When the Milwaukee and Pittsburgh installations open, the company will have 478 operating seats installed at 52 locations.
Interest in both its aquarium and zoo offerings continues to run high and numerous discussions are ongoing with significant potential partners.
The group continues to pursue the spin-off of both the Home Based Entertainment business and Uvisan, as detailed in the company's announcement of April 26, 2022.
::
Surface Transforms, the Knowsley-based specialist brakes maker, reiterated its forecast that it will achieve profitability this year, in an update ahead of this morning's annual general meeting.
The company makes brake discs for high performance cars and the aviation industry.
As part of a presentation, chief executive Kevin Johnson will reveal that, following communication from OEM (original equipment maker) 8 on an imminent start of production (SOP) delivery date and subsequent series delivery schedules, the company has now started series production.
In light of this news, and in addition to continuing deliveries to all its other significant customers, the board said it is pleased to restate the guidance provided in chairman David Bundred's report in the 2021 preliminary results: "The company continues its journey to profitability in 2022 and remains confident that this goal will be achieved, whilst maintaining our commitment to environmental and social goals."
::
Hotter Shoes, the Skelmersdale-based footwear brand, is trading in line with board expectations, for the year ending February 5, 2023, it revealed in a trading update this morning.
The brand, which underwent a CVA in 2020, is now part of London-based Unbound Group, which listed on the Alternative Investment Market in January this year.
Hotter also revealed today that, during the course of this month, it has opened two new garden centre concessions within the Notcutts chain at Rivendell, Cheshire and Garden Pride, East Sussex. It said this remains a key channel as a low cost and flexible retail format ideally situated for its target demographic within garden centre locations that will increasingly play a key role in connecting the business with its customers.
Unbound also announced today that it will launch a curated multi-brand platform to offer a broader range of new partner brands and complementary own-brand products for its core 55+ customer demographic.
The group is initially launching its partner brand offering in apparel and specialist footwear categories. Starting from July 28, 2022, through to October 2022, the group will onboard 14 partner brands which will be sold on its new platform.
Unbound said it is currently exploring a number of opportunities which will further evolve and accelerate its growth strategy and, as a result of insights gained from Hotter and the specific 55+ customer demographic that the business serves, the board believes there is a significant opportunity to drive increased customer activity and loyalty from its current subscriber base.
Ian Watson, Unbound Group chief executive, said: "It's great to see our team's effort coming to fruition as we prepare for the launch of the Unbound platform. Over the past months we have carefully selected a number of brands that we are pleased to announce today, who we look to build a long term partnership with and who will be part of our initial platform launch from 28th July.
"We look forward to developing more partnership opportunities over the coming months as we expand our curated offer."
Unbound also announced the appointment of Singer Capital Markets as its nominated advisor and sole broker, effective immediately.