Wholesaler targeting continued growth after seven-figure funding package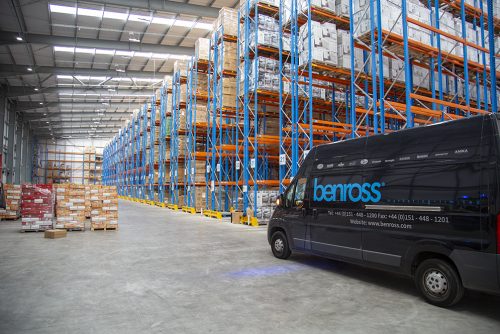 Liverpool-based wholesaler, Benross Marketing, has acquired its South Liverpool warehousing base after receiving a seven-figure funding package from HSBC UK.
The family-run wholesale supplier of homeware, seasonal equipment and gift products, has bought the 100,000 sq ft premises in Speke, South Liverpool, where it has operated from since 1995.
The site offers 13,500 pallet spaces of warehouse capacity, three floors of offices, a laboratory for product testing and a design, print and photography studio.
The HSBC UK deal has additionally enabled Benross to invest in modern warehouse technology and expand its capacity to dispatch up to 4,000 parcels per day.
Benross is also looking to increase its business hours to operate a 24/7 working site as a result of the headquarters acquisition.
As a result of the HSBC UK funding package, the company has taken on 20 new staff, including a new head of warehouse and logistics and a new head of merchandising.
The business generated more than £30m of annual sales for the first time in the company's history in the last accounting period.
This growth comes as part of a strategic plan to reach £50m turnover over the next three years.
Amit Juneja, joint managing director at Benross, said: "The purchase of our state-of-the-art headquarters reflects the rapid progression of our business and aligns with our forward thinking mission to continually innovate and develop our operations.
"The funding provided by HSBC UK has allowed us to adapt to huge increases in demand and changes in customer needs. We look forward to seeing the business continue to flourish as we grow our fantastic team and progress plans for further expansion."
Christian Murt, relationship director at HSBC UK, said: "Having demonstrated a consistent upward trajectory of growth over the last few years, we're pleased to provide funding for the expansion of Benross Marketing.
"This includes supporting the acquisition of its premises, adding new innovations into its day-to-day operations and increasing its delivery capacity. We look forward to seeing the business go from strength to strength."
Established in 1995, Benross Marketing is a supplier of more than 2,000 products and stocks one of the largest range of products, from gadgets, homeware, garden, furniture, electrical, tools and more. The business is jointly run by Amit Juneja and his father and founder, Dharam Vir Juneja.