Countdown begins for major international youth summit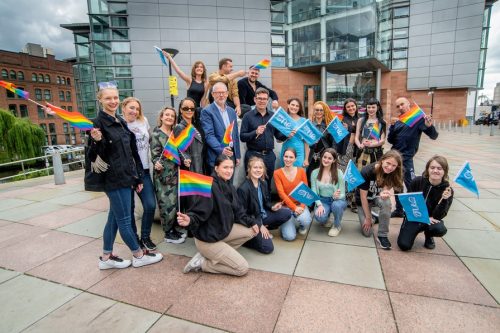 Andy Burnham, Mayor of Greater Manchester, today (July 1) launched the countdown to the annual One Young World Summit 2022, which will take place in Manchester between September 5-8.
Manchester Central conference centre will host the movement, which is the global community for young leaders.
It identifies, promotes, and connects the most impactful young leaders to create a fair and sustainable future for all.
Since launching in 2009, One Young World has built a network of more than 13,500 ambassadors – young leaders whose work has directly impacted more than 35.8 million people globally.
In 2021, for every $1 invested, One Young World ambassadors deliver $16 of social value.
The annual summit is a major global event that gives more than 2,000 young leaders from every country and every sector the chance to come together to confront the biggest challenges facing humanity.
At the 2022 summit, attendees will discuss and explore solutions to an array of topics, including conflict prevention, ethical leadership, safeguarding our oceans, gender equality, and ensuring health equity for all.
One Young World has launched the Leading Manchester Scholarship which will enable 30 young people who are living and making an impact in Greater Manchester to attend the summit and join the global ambassador community.
Andy Burnham marked the countdown at the city's Bridgewater Hall, which will host the summit's opening ceremony.
He was joined by Ella Robertson McKay, One Young World's managing director, and Adam Blackwood, creative producer of the opening ceremony, alongside a host of artists that will feature at Bridgewater Hall.
Manchester will welcome high-profile leaders who work with the young ambassadors and delegates, sharing their experiences of making a positive social impact.
In previous years, this group of political, business and humanitarian leaders have included Nobel Peace laureates, heads of state, campaigners, and activists, such as Prof Muhammad Yunus, the Duchess of Sussex, Prime Minister Justin Trudeau, the late Kofi Annan, and Emma Watson.
Confirmed participants for the 2022 summit include:
Mary Robinson, former president of Ireland
Ban Ki-moon, eighth secretary-general of the United Nations
Robert Spano, president of the European Court of Human Rights
Maria Juliana Ruiz, first lady of Colombia
Dr Tedros Adhanom Ghebreyesu, director general of World Health Organisation
Leigh-Anne Pinnock, campaigner and Little Mix singer, and
Mark Tewksbury, Olympic champion swimmer and chair of Special Olympics Canada
Ella Robertson McKay, One Young World managing director, said: "We're excited to start the countdown to this year's One Young World Summit.
"Manchester has a history of championing equality and justice, and we're proud to be putting together an opening ceremony that celebrates and spotlights the range of young talent the city has to offer. We are also pleased to be offering the Leading Manchester scholarship, and we're currently encouraging any young leaders based in Greater Manchester who can demonstrate a commitment to building a positive impact on their communities to apply.
"This year's summit takes place at a critical juncture of political and social uncertainty, with the ongoing war in Ukraine, an international food crisis and the growing threat of a global recession.
"Businesses and leaders are increasingly expected to help provide solutions to pressing global issues, and the summit will bring together the world's greatest young minds to seek out answers, and tangible next steps."
Andy Burnham said: "As the country recovers from the impact of the pandemic, it's more important than ever for young leaders across the world to come together in the spirit of cooperation and help shape our future.
"There is no better place than Manchester for exceptional young leaders, heads of state, activists, and business leaders to come together to find solutions to some of the most important issues facing our world. I look forward to welcoming all the One Young World delegates to Manchester, with the counsellors and speakers announced to date bringing impressive experience to the table to inspire the delegates attending."