New attempt to deliver Sale affordable housing scheme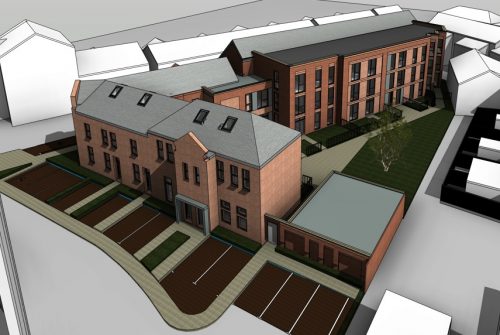 Affordable housing provider, Gecko Homes, is bringing forward revised plans for a site in Sale after a previous application was refused in 2021, on a range of grounds including height and scale, perceived impacts on existing properties and insufficient parking.
The revised proposals are for 30 affordable homes comprising 10 houses ranging from one-, two- and three-bedroom homes, nine three-bedroom apartments and 11 two-bedroom apartments, all available for shared ownership on the site of the former Sale Masonic Hall and Police Station on Tatton Road/Tatton Place.
The plans include the refurbishment of the former police station and the demolition of the former Masonic Hall which will be replaced by a three-storey residential scheme.
A public consultation has been launched, with residents invited to attend the Sale Excelsior Club, on Symons Road, between 4pm and 7.30pm on July 13.
Wendy Mills, head of development at Southway Housing, said: "We are eager bring forward our revised plans for the former Sale Masonic Hall and Police Station site.
"We have listened to the concerns of Trafford Council about our previous plans and have responded with a scheme that reduces the building height and protects the amenity of local residents.
"By incorporating the former Police Station we are able to provide a mix of 30 affordable homes, including town houses and apartment, all available for shared ownership."
She added: "With more people looking for an affordable home in Trafford than properties available, we believe the proposals represent an ideal opportunity for local people to make their first step onto the housing ladder. Set within walking distance of Sale town centre and Sale Metrolink station the site offers a real opportunity to deliver truly affordable homes in the heart of the town."