Co-working space provider expands lease at its Ancoats site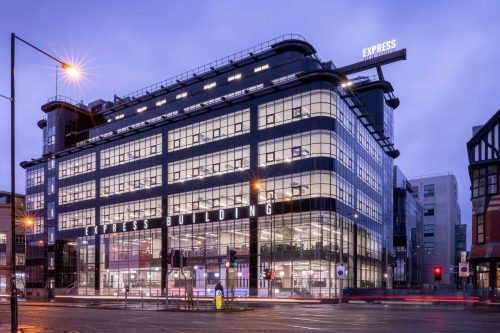 Tech and creative co-working space, Huckletree, has expanded its lease at the Express Building, in Ancoats.
By taking an extra 11.500 sq ft at the Grade II-listed former home of Express Newspapers, the co-working provider now has approximately 40,000 sq ft of space in Manchester, catering for more than 700 members.
Huckletree's total UK and Ireland footprint has grown to 109,000 sq ft, following a record growth year in 2021.
The decision to expand in Manchester follows an increase in demand for quality workspace throughout the city.
As the country recovered from the pandemic, year-on-year occupancy at Huckletree Ancoats grew from 24% in June 2020 – following its opening in autumn 2019 – to 67% in June 2021, and 92% in June 2022, demonstrating the integral role that the workplace continues to play, it said.
At group level, Huckletree surpassed 92% occupancy in July 2022.
Huckletree says it has a unique approach to creating themed co-working spaces designed for the innovation ecosystem, by effectively clustering start-ups and businesses together in hubs that are tailored to them.
Huckletree Manchester is curated around digital lifestyle and media pioneers, including members such as Depop, the community-driven marketplace, Musclefood, online high growth retailer, and international marketing and communications consultancy, Transform. There is a government tech hub in Westminster and a venture capital investment hub in Soho.
Gabriela Hersham, CEO and co-founder at Huckletree, said: "We are proud that our first expansion announcement of the year is in Manchester, making it now the largest hub in our portfolio.
"This is not only testament to the strength of the businesses launching or scaling in the Northern region, but it is also a good indication that working dynamically and feeling a part of a wider ecosystem have fast become a norm for Mancunian workers."
Nick Preston, CEO of Musclefood, said: "We value our culture at the core of our business and we found a perfect alignment with the values that Huckletree holds dear.
"We wanted to change how we worked as a team, with a focus on flexible working, and the set-up at Huckletree is perfect for this new era."