Key £75m employment site receives unanimous planning approval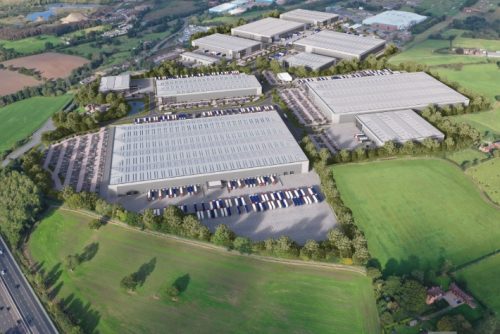 A second phase of a business park in Cheshire, which is expected to deliver 1,500 jobs and £75m of investment for the area, has been given the go ahead.
The construction of five units close to junction 16 of the M6 near Crewe, ranging from 40,000 sq ft to 400,000 sq ft, was granted, unanimously, to Tilstone Industrial and represents one of the biggest employment sites to be achieved by Savills' planning team, wich advised Tilstone Industrial.
The site forms Phase 2 of Radway Green Business Park, which sits immediately north of the Phase 1 site and was approved in 2021 for 109,260 sq m of B1c, B2 and B8 use.
Warehouse REIT, of which Tilstone Industrial is a subsidiary, acquired the site in 2017 when it was released from the greenbelt and allocated in the Cheshire East Local Plan Strategy.
Radway 16 features five units of 40,000 sq ft, 90,000 sq ft, 145,000 sq ft, 345,000 sq ft and 400,000 sq ft on 64 acres off Radway Green Road.
BHP Design was the architect and Hydrock provided transport planning advice.
The application was in outline, so details of layout and design will be clarified as part of the reserved matters, however, the proposals featured a significant landscape buffer around the perimeter of the site for biodiversity and screening purposes.
Savills did not achieve the planning for the Phase 1 site but has been subsequently instructed to discharge conditions and manage the planning of that site moving forward.
Part of the proposals for this site included creating a link between the two sites.
Jeremy Hinds, planning director at Savills, said: "We welcome the unanimous decision to support a strategic allocation for the North West.
"The site will play a key role in the industrial and logistics sector in the North West. It will deliver 1,500 new jobs and £75m of investment to Alsager, Crewe and wider Cheshire East area.
"Tilstone is keen to bring the project forward as soon as possible in response to occupier demand."