New Snoody fashion brand includes antimicrobial protection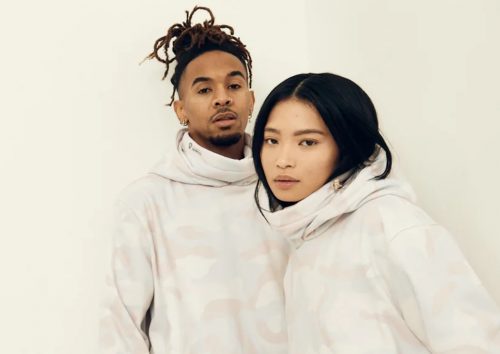 An entrepreneurial Manchester duo has launched a new luxury fashion brand, Snoody.
Karen Seddon and Lucy Hope describe their over-sized hoody as a "genderless online luxury fashion brand" which also includes antimicrobial properties and retails at £75.
They say their product is unique, as it combines 100% certified organic cotton material, which is completely pesticide and fertiliser-free with a lower water footprint than conventional cotton, as well as featuring an in-built snood, which is the science part, providing aerosol filtration and incorporating Virustatic innovation award-winning technology, that can be pulled up and down as needed.
The business has been quick to market thanks to science firm, Virustatic, being awarded £150,000 in funding by the Business of Fashion, Textiles and Technology (BFTT) to develop its sustainability-driven, innovative textile coating to replace the use of metal-based chemicals for the antimicrobial treatment of fabric and textiles and has led to the creation of new products.
The award has funded the salary of sustainable chemist, Dr Joseph Houghton, who has joined the Virustatic team. He has been helping deliver the testing virustatic technology on new circular and biodegradable sustainable materials and is helping drive the project forward in partnership with world leading sustainability experts, material technologists and green chemists within the BFTT at the University of Leeds and University of the Arts London (UAL).
Karen Seddon, a fashion expert from Cheshire with more than 25 years of experience, said: "This brand really is a culmination of British talent, expertise, and innovation. Lucy and I have brought together a collective to support our knowledge and expertise to really launch something different.
"It's not been an overnight thing, it's been years in the making. We wanted to change the game when it came to sustainable fashion, and we believe we have with our signature launch product the Snoody, its material and 'snood' is somewhat futuristic."
She added: "All of our colours and designs are 'less is more' but we have not skimped on the fabric quality. Each one is made with super soft, brushed back 100% organic cotton and you can just feel the superiority when you touch and wear it. I am so proud to be part of this launch and we can't wait to see what consumers and the industry alike think of our new products and brand."
The collective has focused on creating planet-positive apparel that uses natural proteins to replace the over-use of metal-based chemicals in textile supply chains.
Lucy Hope, from Marple Bridge, the development director at Virustatic, the science organisation that brings the science credentials to the team, said: "Since the inception of Virustatic we have been keen to develop the use of our award-winning natural protein technology for the greater good and, after meeting Karen and her fashion team, we just couldn't turn down the opportunity to create something unique.
"We believe this range, and the signature product, is the perfect balance between luxury fashion, comfort and in-built science-backed technology that can help not only keep wearers warm but also protected.
"The overuse of metal-based chemicals in the fashion and textile industry is concerning to all industry insiders. Virustatic is committed to researching and developing renewable, biobased, antimicrobial textile solutions to reduce the environmental burden of harmful chemicals used in the industry."
She added: "The Viruferrin coating that's placed onto every in-built snood contains a biobased naturally occurring protein coating that electrostatically enhances the material to filter airborne nasties. When worn, the snood material can also conveniently filter out environmental pollution."