Residents move in to historic landmark once earmarked for demolition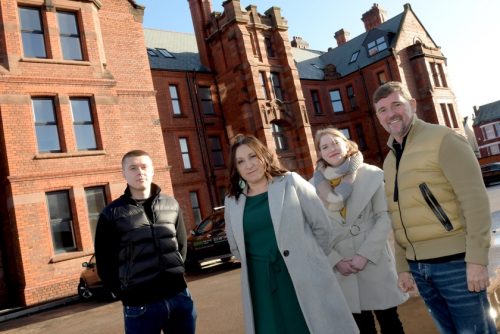 A new chapter has opened for a Wirral landmark that was threatened with demolition, as residents this week began moving into Andrew Gibson House on the Wallasey waterfront.
The site was formerly a home for the widows of merchant seamen, but former owners, Nautilus Welfare, found the impressive Victorian mansion unsuitable for the living needs of the modern age.
The charity, which provides modern, comfortable accommodation for retired seafarers on the adjacent Mariners Park site, was resigned to demolishing the heritage building following numerous attempts to find either a buyer or a redevelopment option.
Following a campaign by local councillors and Save Britain's Heritage, Wirral-based development company, Prospect Capital, stepped forward with a plan to restore the building as part of a comprehensive redevelopment of the site overlooking the Mersey.
Prospect Capital MD, Craig Blackwell, said: "This has been a long road with many complications and challenges, but after five years, we're delighted that we have finally completed the restoration and have residents moving into their new homes in this magnificent building."
The project faced a number of delays during planning including a wait of more than 18 months to approve a footpath diversion when the statutory consultation had to be re-run due to the COVID-19 pandemic.
Craig Blackwell added: "It required some lateral thinking and a great deal of support from Wirral Council officers, especially David Ball, to come up with a solution that delivered a viable scheme that allowed us to restore and convert Andrew Gibson House to its former glory.
"In the first instance it was the campaigning efforts of Cllr Janette Williamson and her colleagues that helped to stop potential demolition. Janette has supported us all the way, and I'm delighted she and her colleagues are joining us today to welcome the first residents on site."
Cllr Williamson said: "We always believed that with enough imagination and effort, this important piece of Wirral heritage could be saved. Thanks to the efforts of Prospect Capital, Nautilus Welfare and officers at Wirral Council, we found a solution and it's brilliant seeing it delivered."
Following completion of the restoration of Andrew Gibson House work on the next phase of the project will commence in the New Year. The scheme will comprise three new-build apartment blocks, including 26 affordable units.