Workspace fully let as three new tenants rush to be part of the Union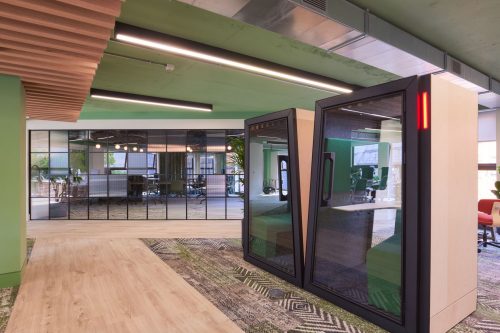 Manchester property group Bruntwood has welcomed new businesses to its community-focused workspace Union, in the heart of Manchester city centre.
NMU, Glenbrook, and Jon Matthews have collectively taken more than 13,400 sq ft of flexible workspace across three floors, with Bruntwood also expanding its headquarters on the third floor, taking an additional 10,420 sq ft, meaning the site is now fully let.
Located in the heart of the city centre in Albert Square opposite Manchester Town Hall, the newly refurbished building benefits from the recently pedestrianised Albert and Lincoln Square, while also offering considerable transport connections – just a four-minute walk to St Peter's Square station, one of Manchester's extensive network of tram stations – a significant factor for the three new customers.
Within walking distance of the city centre's retail shops, bars, and restaurants, Union is designed to integrate work and lifestyle and promote a healthy balance.
It benefits from an on-site gym delivered by community-centred fitness brand, FORM, featuring extensive shower and changing scheme with lockers facilities and towel service along with Bruntwood's state of the art flexible offices with breakout spaces.
Union's newly refurbished reception is also home to independent coffee vendor Ditto, which has been open since 2021. Its network of artisan coffee shops serves ethically sourced and locally roasted coffee.
Acclaimed restaurant group Maray also recently chose Union to open its first site outside Liverpool. The 3,326 sq ft ground floor site is Maray's fourth opening as the group continues its expansion across the North West. Inspired by flavours of the Middle East, the established restaurant network serves up dazzling tapas style cuisine with bold and delicious cocktails.
Union also offers its customers opportunities to attend community events like Bruntwood volunteer days, seminars and workshops, and the Spark education programme is also designed to bring people and businesses together and thrive as a collective.
One of the new customers at Union, NMU, a Munich Re Company, focuses on providing specialty insurance solutions to insurance brokers. Expansion into the new Manchester office is set to support a larger and more hybrid workforce, and create a regional hub for the Munich Re Specialty Group.
Bruntwood has also welcomed Glenbrook, a property company that specialises in development, investment, and asset management. This builds on Glenbrook's existing relationship with Bruntwood, having recently collaborated on the residential element of Bruntwood and Trafford Council's Lumina Village in Trafford.
Rounding off the new trio, Union has also welcomed Jon Matthews Architects from City Tower, a 20-strong team which specialise in commercial architectural development.
The three new customers will be joined by current Union residents, artisan coffee shop Ditto, award-winning integrated communications agency, Citypress, BJSS and Planixs.
Josh Hancock, head of commercial at Bruntwood, said: "With people returning to the workplace in increasing numbers, businesses are reassessing their workspace requirements, which has led to an increase in office expansion and relocation in city centres across the UK.
"As part of this, employers are also focusing more on what their offices need to provide for their employees – whether that's more breakout spaces, types of workspace, wellbeing facilities, food and beverage offerings or close proximity to transport links.
"This is true for our new customers, who have identified quality, location and improved amenities as some of the most important factors in their new workspaces, making Union an ideal fit for their new home."
Bruntwood was supported by interiors and construction specialists Dragonfly on the fit-out of its new space, with the firm advising on the design and specification throughout.
David Perfect, managing director at NMU, said: "We are excited to be expanding into Union and to be adding another regional hub to provide continued and committed support to our broker partners. Our relationship with Bruntwood will allow us to provide outstanding office space to our people and focus on supporting a larger and more hybrid workforce, whilst creating a regional hub for the Munich Re Specialty Group."