Property round-up: Gilbanks; Britannia Group; Northstone; Project One; La Salle Corporate; GHV; Urban Splash

Morgan Sindall Infrastructure is moving to the new Gilbanks workspace at 11 York Street in central Manchester. The new office location provides a modern and convenient location for current, and future employees as the business continues to grow.
The move will see its employees benefit from an award-winning building and work environment. 11 York Street was recognised as the best new building outside central London and is the only Grade-A new construction in the central business district.
The infrastructure company joins Rolls-Royce SMR and Avison Young in the building owned by Aviva Investors, a division of Aviva plc.
Alex Duckett, managing director of Gilbanks, said: "Morgan Sindall Infrastructure is joining a community of professionals that value productivity and understand the benefits of sharing an office environment with like-minded businesses.
"The location offers easy access to the rail network, alongside fantastic connectivity across the North West. We have had a fantastic response to the launch of Gilbanks at 11 York Street and look forward to announcing further developments soon."
The building has a BREEAM excellent rating, an EPC A rating and an innovative, fresh air filtration system.
The workspace is set up for task-based and hybrid work to increase efficiency and foster a professional atmosphere. Members will also have access to various event spaces, including a sky suite for events with a view of the city on the eighth level. These spaces could be used for anything from management meetings to exercise classes.
::
Manchester-based property development and investment company, Britannia Group, has submitted a planning application to Manchester City Council for its proposals to create 72 new homes on the former probation centre site on Daisy Bank Road, Victoria Park.
A large, detached property known as Stafford House occupied the corner of Daisy Bank Road and Laindon Road from the 1890's until it was demolished in the 1960's to make way for the probation centre, and Britannia Group's plans include a new 3.5 storey building to occupy the corner once again.
The new building will include 23, one-bedroom apartments and 14, two-bedroom apartments with private ground floor gardens, and parking and shared gardens to the rear. To the south of the site a series of seven blocks will accommodate 15, three-bedroom and 15 four-bedroom family townhouses, two, one-bed and two, two-bed apartments and one, six-bedroom house.
All houses facing on to the road will have front and rear gardens. The houses will back on to private courtyards, shared green space and a kitchen garden. All parking is incorporated into internal courtyards which are screened from the street and each townhouse is allocated one in-curtilage parking space.
The proposals were the subject of a public consultation in September last year, at which it received a positive response. The final development will have a GDV in the region of £16.5m. Nick Carter, development director, Britannia Group said: "We are very excited by our plans to transform the site, especially bringing a large building back to the corner of Daisy Bank Road and Laindon Road and creating much needed new family homes for the area."
While the site is located just outside the Victoria Park Conservation Area, which dates to 1837 and includes 20 listed buildings, the proposed designs by Ollier Smurthwaite Architects take into consideration the characteristics of Victoria Park, including massing, height, materials and colours, as well as details such as pitched roofs, projecting gables, garden walls, gate posts, door and window style and front and rear gardens.
Matt Ollier, of Ollier Smurthwaite Architects, said: "The scheme takes a derelict brownfield site suffering from anti-social behaviour and proposes high quality houses and apartments for inter-generational living. A strong sense of community is promoted through the front and rear gardens, shared lawns and a kitchen garden. We are also incorporating a large number of existing mature trees along Daisy Bank Lane into the development."
Avison Young is the planning consultant on behalf of Britannia Group.
::
New energy-efficient homes for private rent surrounded by 2.5 acres of green space could be built in Atherton in Wigan to help meet local housing needs and improve the quality of housing in the area.
Homebuilder Northstone, part of regeneration business Peel L&P, is inviting residents to have their say on plans for 110 homes on land west of Stothert Street.
The vision is to create a new sustainable community with nearby green space rich in biodiversity and with public pedestrian and cycle routes.
The one- to three-bed homes, bungalows and apartments would feature energy-saving technologies and triple-glazed windows to reduce fuel bills and would be available through a new North West build-to-rent company, Letta.
Bernadette Barry, at Northstone, said: "These are some of the first homes to be built specifically for private rent through Letta and we're excited to start discussions with local people in Atherton to develop our plans further to meet local housing needs.
"The UK's housing crisis is not improving and with an increase in demand for rented properties, these homes will offer a better quality of living which we believe is more than just bricks and mortar and about the well-connected communities surrounded by nature and sustainable travel options that we're trying to create.
"Renters will also have the added reassurance that the homes are being managed by a trusted housing company and we'd encourage people to give us their feedback and share their views on the consultation website before plans are submitted to Wigan Council."
The public consultation will run until Tuesday, January 31.
::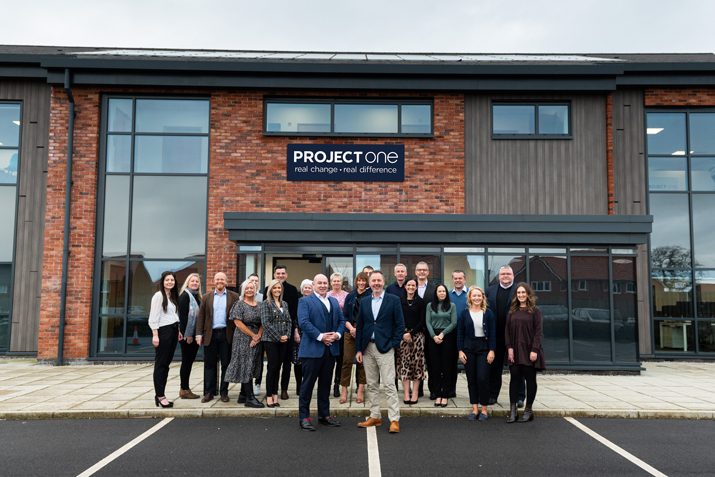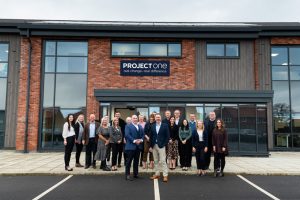 Management consultancy, Project One, is celebrating its 25th anniversary and a period of sustained growth with a move to a new head office.
The consultancy, which turns over £30m a year and employs 100 change experts, has moved to a larger, eco-friendly premises, in a new set of offices on Campion Park, London Road, which supports more sustainable and modern ways of working for its growing team. Founded in Holmes Chapel, 25 years ago, the organisation has stayed true to its heritage and remained in the town, while serving its customers globally.
James O'Sullivan, Project One's CEO, said: "This marks an exciting step in our journey and I'm very happy we were able to stay true to our roots and remain here in Holmes Chapel.
"We are passionate about making a difference, not just to our customers, but to the environment around us, and this eco-friendly building supports our ambitions to becoming Net Zero Carbon. Our new office accommodates our recent, and continued future growth, with more room for our team."
::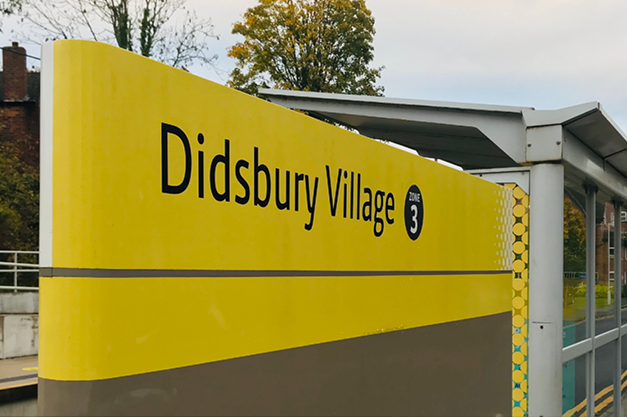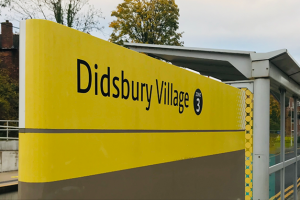 Boutique corporate finance specialists La Salle Corporate has relocated to a prime trading location in the heart of the leafy suburb of Didsbury Village in south Manchester.
After a record year in 2022, La Salle partners Matt Dillon and Sarah O'Reilly have chosen to reinvest the profits into purchasing the site at Xenon House, formerly Alan Gregory Musical Repairs.
La Salle has operated from its Stockport HQ for more than 10 years. Exciting plans for the site include a conversion to two-storey office premises, presenting commercial space rental opportunities. Additional plans include a modern boardroom with bar and terrace area for hire to local companies seeking a private meeting space with a social element.
Renovations at the new site are expected to be completed by spring/summer 2023.
Matt Dillon said: "We are very excited by our new offices. When the site came to the market, we knew we would never find a better location. We want to grow our team and feel that new, refurbed offices will help us attract talent from the North West area.
"We are excited by the future of La Salle and hope to see many of the corporate finance community visiting us at the new office."
::
Developers behind proposals for an upmarket holiday retreat on a derelict former golf course in Goosnargh have submitted their planning application.
Preston-based GHV has submitted proposals to Preston City Council for a £7m redevelopment of a former nine-hole pay-and-play course on the edge of the Forest of Bowland. The move follows an extensive, two-stage public consultation in the autumn.
Peter Allen, of GVH, said: "We've taken the time since then to review our proposals and have made a number of changes in light of the public's feedback.
"It's a very good scheme, but the public feedback has made it better still. Our neighbours spotted some individual issues they felt could improve things and we've been pleased to be able to incorporate them. The proposals now go forward for the proper scrutiny of the planning committee and we await the outcome of their deliberations keenly."
The plans aim to convert the 64-acre former golf course into a luxury tourism destination offering 130 upmarket lodges, 26 tourer/caravan pitches and 14 office pods, together with a range of leisure facilities for guests, possibly including an indoor heated pool, tennis courts, games room, bar, restaurant and spa.
Explaining the addition of the office pods, Allen said: "Our research showed us that residents of more upmarket destinations tend to bring their work with them, even on short breaks. The pods will provide contemporary, wi-fi enabled workspaces where they can escape the bustle of their lodges for a while and keep an eye on what's going on back at base."
He says feedback from the public consultation was "overwhelmingly in favour" of the development, with particular support for the developer's commitment to local supply chain engagement and the wider job creation benefits of the scheme.
Mr Allen said: "We're in choppy waters economically and investment of this kind doesn't just create jobs, it breeds confidence. The public recognised this and told us so."
Figures produced for GHV by consultants Hatch show that local businesses can expect a £1.9m annual boost in visitor spend in the immediate area, with a further £2.3m coming in the form of wages paid to locally-recruited staff, more than 100 of whom are expected to work on the site when fully operational. A further 45 jobs will be created among the local building supply chain during construction, said Mr Allen.
Goosnargh Golf Course was opened as a 'pay as you go' facility in 2005 and closed at the start of the pandemic.
The consultants on the project include Frank Whittle Partnership (architects), Miller Goodall (noise and air quality), PWA Planning, Eddisons (traffic engineers) and Allen Archaeology (heritage and archaeology).
::
Regeneration company Urban Splash concluded 2022 by completing deals on 8,000 sq ft of space – welcoming more businesses into its buildings in Manchester, Salford and Liverpool.
In Ancoats Urban Splash let space to Virsec training at Beehive Mill – the former Sankey's nightclub building – and to finance firm JLB which has made Waulk Mill its home. A few miles down the road at Boat Shed in Salford Quays, Urban Splash also welcomed Debate Mate Communications and EIA Social Science who took a combined 1,300 sq ft of space.
Aoife O'Sullivan of Urban Splash has overseen the deals and said: "We're delighted to be starting 2023 with so many new faces – welcoming new customers into our buildings is a joy and we can't wait to hear about their successes this year."
The deals take the Urban Splash nationwide portfolio to 93% let, with notably high occupancy at buildings in the North West, including in Liverpool's Ropewalks. New deals with contracting company Bright Sky Umbrella and Beacon Languages school have taken the Ropewalks' Vanilla Factory to more than 97% let, with the neighbouring Tea Factory more than 96% let.
Urban Splash commercial director, Emily Jones, said: "Closing these deals in the late stages of 2022 is testament to our team's hard work last year, and the ongoing appeal of our portfolio. We're thrilled to bring more people into those workspaces, diversifying and enriching our Urban Splash places."