The murky world of Inc and the questions Jack Mason won't answer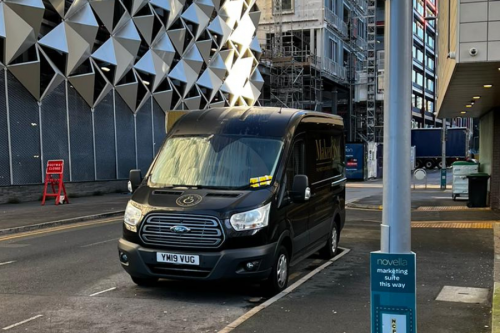 A van abandoned on a back street in Salford, an unfavourable story in The Times newspaper, and a damning judge's report stand in stark contrast to optimistic, upbeat LinkedIn posts promising to "smash it in 2023" by Jack Mason the chief executive of Inc & Co.
Mason is also a director of almost 90 other companies, including the upmarket furniture brand Maker & Son, a business founded by the grandson of design guru Terence Conran which Inc claimed to have rescued in 2022. 
Staff have now been laid off at Maker & Son and the angry Trust Pilot reviews pile up. But several mysteries still linger. Not least how the owners of Inc can trade as Maker & Son after a judge effectively told them to stop, and reversed their attempts to do anything with the assets, placing the business into liquidation and therefore under the control of the insolvency practitioners FRP Advisory. 
We put a number of questions to Jack Mason, and this was his reply: "Do what you want Michael. We will no longer be interacting with you any further or answering any of your questions now or in the future."
So that's that. Except it isn't. TheBusinessDesk.com isn't the only media taking an interest in how Inc operate, their history or their methods. Last Thursday (19 January 2023) The Times reported on the collapse of Maker, but included for colour the extensive directorships Mason holds, with three different dates of birth and two nationalities. It also included mention of his associations with banned director Mylo Kaye, still involved in the business, and the failure to pay the pensions contributions of employees at their businesses Dreamr and Cuhu. 
All of this is way before we start wading through the complex web of companies behind Caribou, a courier network which collapsed in 2022. Or sports analytics business Skylab, which administrators from FTS are attempting to understand why the creditors to the business included so many Inc related businesses, such as the salad bar Chop'd and the online laundry business it briefly owned, Laundrapp. 
What follows are the questions that elicited that response. Mason thinks we're "haters" who don't understand business, as he referred to us in one of his many LinkedIn posts. He also posted laughing emojis on the LinkedIn comments of Maker & Son staff who responded to our story.
He took particular exception to the wording of the headline of that story published by TheBusinessDesk.com in December 2022 which reported on the direction of FRP's investigation into the collapse of Maker & Son. 
Mason enjoys the limelight, he enjoys promoting himself as an entrepreneur, he even has his own personal website. He likes public adoration, he should be able to accept some scrutiny, especially as his friend and business partner Scott Dylan freely admits in a LinkedIn post: "We work in the dirty merky (sic) world of distressed companies and insolvency, it's never easy, it's not clean and we still take the bullets that people throw our way."
So here's what we threw their way, that we thought was in the public interest.
It all starts with a statutory report by a firm of insolvency practitioners called FRP Advisory and a statement they gave to TheBusinessDesk.com, relating to the circumstances surrounding the collapse of the business. It states: "We will continue to investigate the transfer of the company's intellectual property initially to Holdings on 31 August 2022 and then to Investment Holdings British Virgin Islands Ltd on 18 October 2022. Both the aforementioned corporates are controlled by Inc."
This is not the same line that Inc stated to TheBusinessDesk.com last week when they claimed Global is a separate entity that backs their ventures and indeed its debentures it holds over their investments refer to these in great detail. But it is consistent with the fact that Global doesn't appear to act independently of any investment activity, in this form, from Inc. We asked Mason if he wished to clarify. He didn't.
We've also digested the summary of Judge David Worster from a court case which concluded on 18 November 2022 in Birmingham. In his conclusions he said Mason had applied on a "false basis" to attempt to trade and to move assets.  
In a detailed account, prepared by Dawn McCambley, a barrister at Radcliffe Chambers, acting for FRP, it states: "At the request of the administrators, Ops (you) also agreed to an undertaking not to transfer, assign, sell and/or interfere with any of the assets belonging to the company."
The judge said Mason's conduct "gives rise to concern".
However, in a reply to a post on LinkedIn about TheBusinessDesk.com story on the investigation into the collapse, Mason claimed that Maker & Son can now look forward to "Massive global growth now the brand is fully protected" which did rather seem to contradict that undertaking. We therefore asked Mason how he can claim to own a brand that by order of court is an asset that is being liquidated?
Furthermore, the report also states that: "An unidentified individual also filed various documents with Companies House on the same day including, changing the company's name and seeking to confirm (incorrectly) that a debenture held by Barclays had been discharged. This was undertaken without the prior knowledge, or authorisation, of the administrators."
In our questions to Mason, we asked who this was.
The report continues, "The court held that there remained a real issue as to the bona fides of the transactions, some of which were only registered on 3 October 2022. The fact that the assets and business of the company were purportedly transferred away to companies in the control of or connected to Mr Mason, at a time when the company was insolvent, was of itself, a matter which gave rise to concern. The learned judge also confirmed that, if it was not Mr Mason who registered the purported satisfaction of the (Barclays) debenture, he inferred that Mr Mason had authorised that step."
We asked Mason if he had indeed authorised that step as the judge inferred? Again, no reply.
That filing has subsequently been withdrawn from the records at Companies House. 
Also in the LinkedIn replies are comments from Maker & Son employees who claim that the business was continuing to take orders when the supply chain was static.
Therefore, we asked if the business was still in a position to fulfil all outstanding orders?
Finally, FRP say co-operation from Mason and his management team has been "extremely limited". We asked why this is and would he be co-operating more fully in the future?
There hasn't been a total wall of silence. He's active on LinkedIn and he responded to Big Issue North, who have been looking at this story too, partly as a follow-up to earlier queries about Mason and his business partner and friend, Mylo Kaye.
In March 2020 Big Issue North reported that staff at Inc & Co companies Dreamr, Cuhu and Neon had not received some employer contribution payments to their pension.
Just as TheBusinessDesk did, Big Issue North also put a series of questions to Mason, arising from Judge David Worster's summary of his judgement. Mason didn't reply directly to the individual questions but told Big Issue North: "We took over the company in August 2022 at a time where the previous owners had racked up over £16 million worth of debts – none of this debt was built up by us.
"We've been picking up the pieces ever since, in order to keep as many staff in jobs, and as many refunds and customers orders honoured – something that would have fallen away with any liquidation. We continue to do just that."
Given his reluctance to respond to these queries in detail, and the threats of injunctions and libel actions sent to us by a nameless "Legal Team" at Inc, but with similar grammatical shortcomings, we're reliant on his LinkedIn posts which we often interpret as a response.
On the day they terminated the employment of Maker staff he said: "Losing staff is never easy – we'l bare the brunt of the negativity and criticism for some time.
"But the sad reality is with any turnaround business, hard decisions have to be made to secure the future turnaround of a business and brand.
"People call us liers, fraudsters and shameful when we make these hard decisions, but my role as Group CEO is to protect the business and make these difficult unpopular decisions – they keep me up at night and go against my positive focus."
All the grammatical errors are Mason's, but we include them for accuracy. 
We doubt that this will be the last we hear from Mason, or Inc. 
On its website Inc describes itself as a "Manchester-founded business group with brands across retail, property, digital, food & beverage and logistics".
It may need updating as the group acquires and sheds companies under its control. It's a matrix of complex interconnected businesses. Companies with late filings of accounts, changes of names, abbreviated accounts, charges over the business from Inc, or Global, or another entity registered in the British Virgin Islands.  
According to his website, another of its founders is Scott Dylan, who "oversees the strategic direction of the company, which I created with my business partners to bring companies together to help businesses improve their business operations and collaborate. Inc & Co invests in and funds the acquisitions of companies."
Dylan describes Inc & Co as a "private equity disruptor". Attempts to contact Dylan have also been met with obfuscation and some strange appeals not to approach him for reasons related to his health.
He isn't currently a director of any UK registered company. He is referred to as a "director" of Fresh Thinking Group and Laundrapp on the website of a law firm which no longer acts for him.
And then there's the abandoned Maker & Son van with a parking ticket on its window outside a modern development called Slate Yard in Salford, just across the Irwell from Spinningfields, a long way from Sussex. We don't know why it's there, which side of the business owns it, the one going into liquidation, or the one Inc claim they are licensing. By the time you read this it might have been removed, but for now it's a bit of a symbol of the confusing world they inhabit.