Contractors appointed to deliver £480m Lostock Sustainable Energy Plant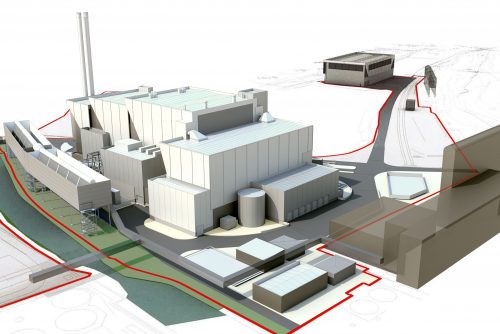 Contractors have been appointed at the £480m Lostock Sustainable Energy Plant (LSEP).
Global engineering, procurement, consulting and construction company Black & Veatch has been named as the engineering, procurement and construction management (EPCM) contractor to support LSEP in delivering its energy from waste facility at the Lostock Works site near Northwich.
Babcock & Wilcox Renewable, a segment of the global clean energy technology group within Babcock & Wilcox, has also been appointed to support the delivery of the power train, which is the heart of the energy generation and environmental performance of the plant.
These appointments follow the insolvency of CNIM, which had previously been the main contractor for the plant.
With the required site enabling works to build the LSEP facility now complete, Black & Veatch will oversee the delivery of the plant, which is expected to be operational by 2025 when it will generate enough sustainable energy to power around 125,000 homes.
An LSEP spokesperson said: "This is a really positive step forward for the LSEP facility, which will support in levelling up the local economy by creating up to 600 jobs during the construction period and around 50 high quality full time operational jobs with training opportunities to support career progression.
"Appointing Black and Veatch and Babcock and Wilcox Renewable as the lead contracting partners is a key milestone on our journey to manage the delivery of the LSEP plant, and provides the certainty that will help us to unlock the significant investment, job creation and energy security benefits of the project."
Youssef Merjaneh, Black & Veatch's senior vice president and managing director – Europe, Middle East, Africa, said: "Black & Veatch will deploy its global and national experience and proven delivery in large scale energy from waste projects to provide LSEP with execution certainty on Lostock.
"Our UK team's expertise in EPCM delivery offers the most flexibility to meet LSEP requirements on this complex project. We would like to thank LSEP for selecting Black & Veatch and we are delighted to lead this project and bring it to successful delivery".
Jimmy Morgan, Babcock & Wilcox executive vice president and chief operating officer, said: "We thank LSEP for choosing B&W Renewable for this key clean energy project. B&W Renewable has a global footprint with technologies that will play a critical role in decarbonisation and supporting the world's energy transition.
"We are happy to support the LSEP team to finalise and deliver the full potential of this nationally significant project, and to contribute our technology and expertise to help produce clean, renewable power for the UK, and reduce reliance on landfills which eliminate harmful methane emissions into the atmosphere."
Once built, the LSEP will process 600,000 tonnes of waste per year, displacing energy that would otherwise come from a fossil fuel power station and reducing carbon dioxide emissions by 190,912 tonnes of carbon dioxide equivalent (tCO2e) when compared with the alternative of sending the same quantity of waste to landfill.