Hub opening will create 20 construction technology sales jobs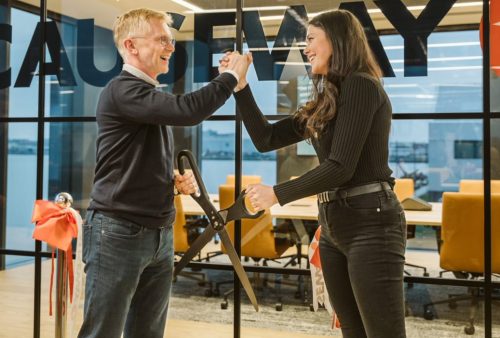 The opening of a new regional hub in Birkenhead by Causeway Technologies will create 20 construction technology sales jobs.
The new office is located at Peel L&P's Hythe in Wirral Waters.
It marks another milestone in the growth of the business which secured a major £120m investment in 2021 to boost the continued development of its software for construction.
The Wirral Waters office ties in with the look and feel of Causeway's existing centre of engineering excellence in Middlesbrough, its offices in Ireland and India, and its headquarters in Gerrards Cross.
Leisa Docherty, chief people officer at Causeway, said: "As Causeway's sales hub and centre of excellence in the North, the new office at Wirral Waters provides a great place to work with excellent facilities for our growing team. The space has been designed to reflect its history as being home to the former Seacombe Smalt Works, established in the early 19th century, with a nod to the local region.
"We're excited to continue creating jobs and building our talent pipeline in Merseyside. Our aim is to support the local community, not only as an employer but also with our CSR plans by enabling employees to volunteer in support of the local community. We have some great opportunities for entry level sales development positions, which will be based at our fantastic new office."
Phil Brown, Causeway chief executive, said: "As we continue to develop our platform, our strategic priority is to be at the forefront of the digitalisation of construction to help companies not only streamline their processes but also lower their environmental impact. It is clear that the construction industry urgently needs and wants good technology solutions, so the future is very bright for those who join this sector. They will be the changemakers in this exciting industry."
Richard Mawdsley, director of development for Wirral Waters at Peel L&P, said: "Hythe really is appealing to exciting and innovative businesses that see sustainability and technology as core parts of their growth strategy. This is exactly why we created Hythe, to attract ground-breaking and environmentally-conscious businesses and entrepreneurs to the Wirral, helping to accelerate growth and attract economic prosperity."
Hythe is among the top 10% of all buildings for its green credentials, achieving a BREEAM Excellent rating by including low carbon procurement initiatives and innovative construction techniques which set high standards in environmental sustainability. Efficient building systems, sustainable urban drainage, the installation of photovoltaic panels, electric car charging points, cycling facilities, and future provisions for bike charging points all contributed to this achievement.
Causeway Technologies was founded in 1999 by Phil Brown. Headquartered in Buckinghamshire it serves more than 3,000 customers and has in excess of 500 staff. Causeway provides enterprise and cloud software solutions to support the construction and maintenance industry, serving consultants, contractors, suppliers and their clients.
Phil Brown was joined by British hockey star Sam Quek to cut the ribbon at the official office opening on March 8, as well as Trevor Steven, Everton's legendary midfielder and now Causeway's mental health ambassador.