Social services champ takes up new space following community asset transfer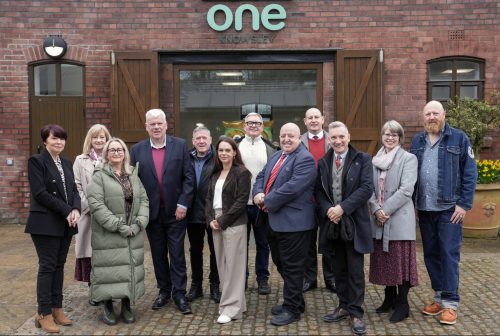 A social services champion has moved into new premises aimed at supporting, developing and delivering the activities of the voluntary, community, faith and social enterprise sector within Knowsley, creating a resource for both local residents and the wider population.
One Knowsley is now based in the 5,521 sq ft Court Hey Park Courtyard facility following the community asset transfer of the courtyard buildings in Court Hey Park, which involved a significant £447,000 investment by Knowsley Council into the refurbishment of the buildings over the past 12 months.
One Knowsley acquired the site following an asset transfer from Knowsley Council, supported by Livv Investment and the Fusion 21 Foundation.
Working with strategic partners, One Knowsley will lead a renaissance of the site in partnership with local groups and the business community, offering space for activities, meetings and workshops, with voluntary, community, faith and social enterprise groups all set to utilise Court Hey Park's facilities.
Racheal Jones, chief executive, One Knowsley, said: "To have Court Hey Park in our borough is a real asset, with thousands of Knowsley residents utilising the park and its facilities every year.
"Our aim now is to add to the park's offering, by creating a vibrant hub, that can be used and enjoyed to increase our communities enjoyment of this wonderful space, including increasing the activities and events for local residents to benefit from and community events – including the yearly Knowsley Flower Show, which is set to return in August.
"Meeting the needs of the wider sector we support and act as the trusted voice for, as well as our own employees, Court Hey Park's Courtyard will bring so many incredible mental, physical, social and economic benefits to the borough and we are proud to finally be able to call the courtyard home."
Before the community asset transfer, One Knowsley's Social Impact was £40.90 for every £1 invested in its work. Following the transfer One Knowsley has increased its social return to £115.55 for every £1 invested in its work, representing a huge upturn and added benefit to the borough of Knowsley.
Cllr Shelley Powell, Knowsley Council's cabinet member for communities and neighbourhoods, said: "A key priority for Knowsley Council is ensuring parks and green spaces across the borough provide good facilities and are well maintained for the benefit of the Knowsley community. We are delighted that One Knowsley shares our aspiration for Court Hey Park to create a vibrant hub offering a range of activities that promote social enterprise, community empowerment and environmental stewardship."
Steve Macfarlane, outgoing chair of trustees, Michael Causer Foundation, said: "We've been working with One Knowsley for quite some time and the fact that they are now officially here at Court Hey Park, it certainly gives the foundation a further sense of belonging, with Michael truly 'coming back home' to the area. We now look forward to the many projects that are planned here working from the site, with the full backing of Mike and Marie Causer."
One Knowsley plans for the site to be an exemplar for green recovery. Court Hey Park now boasts a new heating system and LED lighting set throughout, along with solar panels fitted to the roof.
This followed Knowsley Council's successful bid for funding from the Public Sector Decarbonisation Scheme – an investment which will reduce the annual energy consumption of One Knowsley's buildings by approximately 180,000 Kwh per annum.