Lancashire housing development secures £7m+ loan for first phase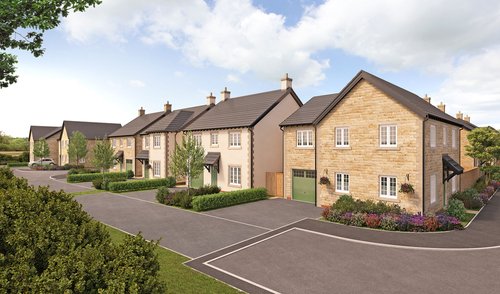 Aldermore Bank has provided a £7.14m property development loan to well established, award winning new homes developer Hollins Homes Limited, in a joint venture partnership with Housing Growth Partnership (HGP) to fund a new development in Lower Bartle, Preston.
The loan will fund the first part of phase one of the development, which is 30 of the initial 55 homes, including affordable homes and 14 different house types. Each house type will benefit from off-street parking with some units benefitting from garages. The homes will feature Ohme universal electric vehicle chargers to encourage homeowners to lead sustainable lifestyles. The overall development will eventually be comprised of over 100 homes, including further affordable properties.
The site is located in a beautiful semi-rural location, just five miles from Preston city centre and close to the University of Central Lancashire. Lower Bartle is well connected by road with the M55 and M6 within a 10-minute drive from the development site. It's also well served by public transport and within a short distance there is a large selection of schools with the majority rated as good or outstanding. In addition, there's also easy access to country and canal side walks plus rural views.
David Whitehouse, property development manager at Aldermore, said: "Stephen Goodman and his team at Hollins Homes have an excellent track record in securing sales on their sites which are always well planned and good value, and we are confident this upcoming development will serve demand for quality homes in Preston."
Stephen Goodman, chief executive at Hollins Homes, said: "By working with Aldermore and HGP, we are able to utilise their expertise and resources to deliver a project that will make a positive impact on the local community".
John McKeon, investment director at Housing Growth Partnership, said: "We are confident that there will be strong demand for the quality housing that we have seen Hollins deliver on other schemes which we have supported. We are grateful for the senior debt support from Aldermore and look forward to seeing the project delivered".
HGP has provided Hollins with equity commitments of £6.9m since 2018, across five development schemes totalling 282 units.
Hollins Homes was established in 2015 as the housebuilding arm of the land promotion company Hollins Strategic Land, which was founded in 2007.
Goodman was a commercial property lawyer with Manchester law firms Halliwells, Hammonds (now SPB) and his own firm Goodman Harvey, which was acquired by JMW in 2013.
HSL has submitted an outline application for up to 51 new homes in the village of Broughton, a few miles up the A6 with a "bespoke housing offer which responds to the latest housing needs evidence".