Liverpool One chosen to launch first Horrible Histories escape room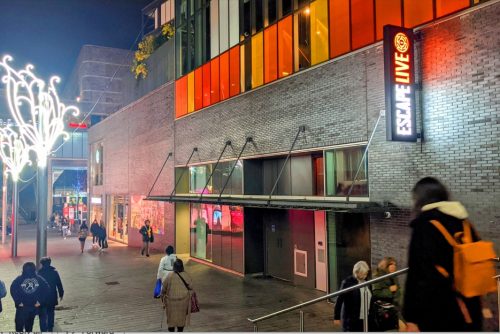 The first Horrible Histories escape room has opened in the Liverpool One retail centre.
Escape Live licensed Horrible Histories from Scholastic, the publisher of Horrible Histories, written by Terry Deary and illustrated by Martin Brown. Celebrating its 30th anniversary in 2023, the world's bestselling children's history book series has inspired an acclaimed feature film, BAFTA award-winning TV series, stage shows and attractions.
Horrible Histories: Mystery Museum at Escape Live is the first Horrible Histories escape room.
Visitors to Horrible Histories: Mystery Museum Escape Room are challenged to recover three missing artefacts while escaping through Rotten Roman, Terrible Tudor and Vile Victorian themed rooms.
The rooms' immersive puzzle-solving is fun for all ages and features the voice, humour and historical knowledge of the Horrible Histories author himself, Terry Deary, and the team behind Escape Live says it will be a hit with children and grown-ups alike.
Ross Dyke, operations director of Escape Live, said: "We are delighted to present the first ever Horrible Histories escape room. We have worked really hard with the Horrible Histories team on making the room an immersive puzzle solving experience for all the family to enjoy.
"Escape Live's Liverpool venue is proud to be rated five stars by our customers on TripAdvisor, which is a credit to the hard work of our games masters who are great in helping make every visitor's experience memorable and engaging.
"The release of this room further boosts our varied offering and it means there really is something for all the family here."
The new addition extends Escape Live Liverpool's popular range of 60-minute escape rooms to six, with visitor favourites including official themed rooms based on the popular BBC show Peaky Blinders.
The series, which was partly filmed in Liverpool, inspired two themed rooms. The Raid room is set in the Shelby's bookies where visitors are challenged to find evidence of the family's crimes before the police raid. In a second room, Double Cross, visitors are tasked with infiltrating a rival gang to uncover a double agent in their midst.
Players can also channel their own Sherlock Holmes and take a trip back in time to solve murder mysteries in Victorian London, with Jack the Ripper and Dr Watson's Office challenging guests to decipher the clues and uncover a killer before time runs out.
The venue's Prison Break themed room tests visitors' problem-solving skills through coded plans as part of a daring escape mission from a prison cell.
Alongside the real-life rooms, the venue's virtual reality room gives guests an opportunity for digital escapism through virtual reality games, designed by game developer Ubisoft and including the popular Assassin's Creed video game.
Escape Live also boasts a rooftop bar and terrace.