New event 'Space' in Baltic Triangle designed by creatives for creatives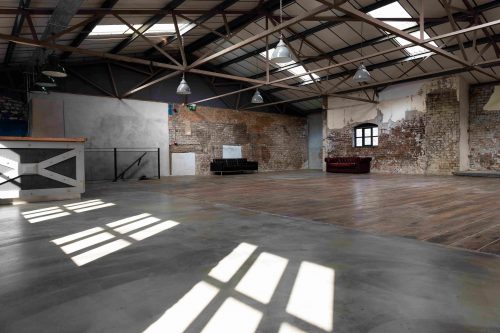 The team behind creative agency, Liquid, has launched its second site in Liverpool, 'Space Event Studio', a mixed use stand-alone space in the Baltic Triangle.
Liquid has purchased the building on Stanhope Street, a Gallery and workshop, reconfiguring and redeveloping the two storey space with both its original features and new modern facing resources and technology.
It will be available to hire for events as well as a creative space for local independent creative businesses for brand activations, product launches to shoots and exhibitions
Jake Nolan, Head of Brand and Marketing at Space Liverpool and Liquid said: "We believe that the launch of Space Liverpool will attract other creatives to the city – the standard is fully in line with studios you'd expect to see in East London.
"Ultimately, this space has been created by designers and creatives for that same market – we want to attract more big brands, invite collaborations and give the city a new
proposition for the creative community.
"We're seeing some really exciting developments right now – Eurovision of course has elevated us onto the world stage attracting huge brands to the city, including Box Park who are moving to the area this year. We need to build on this momentum and keep Liverpool centre stage as a thriving artistic and creative hub."
Local architects Strado designed the project, creating a unique high end flexible space across 2,600 sq ft, adding a integrating a lift for accessibility, onsite coffee shop, barber shop and a podcast studio as well as a fully stocked bar, drinks and events licence.
Space Liverpool have retained their original site 'Space Content Studio' within Camp and Furnace on Greenland Street. The site includes a 2,500 sq ft studio with a purpose built cove, created for background, editorial and e-commerce shoots. The space is big enough to house multiple sets simultaneously on photoshoots. 
Steve McGauley, Founder of Liquid and Space Liverpool added: "We know that purchasing and investing in a commercial/industrial building at a time of economic uncertainty, and in particular one where the property market is so unstable could be seen as a risk, however for us, a project of the nature is very much needed in Liverpool and within our neighbourhood in the Baltic Triangle. 
"We have done little to market this space so far but have been overwhelmed by the interest we've generated through word of mouth. On a wider note, this is the next natural evolution for us as an agency and for the Space brand. We have so many exciting ideas and projects ahead and building these foundations forms a critical part of our journey."