Salford Youth Zone secures planning approval, creating 70 jobs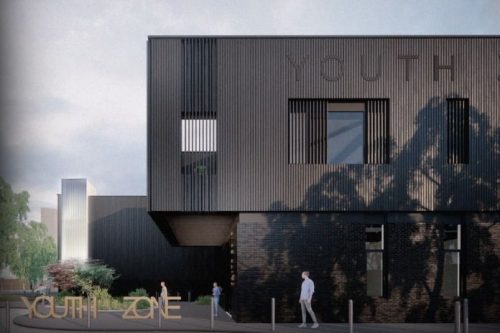 The new Salford Youth Zone has been granted planning permission by Salford City Council and is set to begin development in winter 2023, with the opening of the Youth Zone estimated for early 2025.
It will be situated next to Belverdere Road and Broadwalk in Pendleton, a prominent position just off the A6 facing the University of Salford.
Once construction is complete, Salford Youth Zone will open to young people – aged 8-19, and up to 25 with additional needs – seven days a week, 52 weeks of the year. Salford Youth Zone will provide young people access to incredible facilities in a vibrant, purpose-built space packed with more than 20 engaging activities per session, including a state-of-the-art gym, recording studio, rock climbing wall, sensory room and employability support.
In addition to the advanced facilities, trained youth workers and dedicated volunteers will be available to offer guidance and support to help Salford's young people to thrive.
The Youth Zone will create up to 70 full and part time jobs and up to 100 volunteering opportunities.
Salford Youth Zone is being developed by Empower – an umbrella charity which already oversees the operations of another local Youth Zone, HideOut Youth Zone, in East Manchester.
Empower will deliver the new Youth Zone in partnership with Salford City Council and the national youth charity, OnSide, which has supported the creation and development of 15 Youth Zones across the U.K.
Adam Farricker, CEO of Empower, said: "Gaining this approval is exciting news for every single young person in Salford and we can't wait to get on site and begin construction. This planning approval is a major step forward in the project and we are delighted that the hard work it has taken to get to this point, has now paid off.
"The potential the Youth Zone has for Salford and its future generation is unprecedented – it will change the lives of thousands of young people. We've got the experience of HideOut Youth Zone – our Youth Zone over in East Manchester – which has seen incredible success in its first three years of operation, and I'm confident that we can achieve the same success over in Salford."
Salford City Mayor, Paul Dennett, said: "It is great news that the Salford Youth Zone has formally been granted planning permission by the panel.
"A huge thanks goes to Fred Done once again for his very kind donation that has made this dream become a reality. When it is open Salford Youth Zone will make such a difference to the lives of young people in the city. It will also create jobs and volunteering opportunities for local people."
Sam Power, of Studio Power Ltd, the organisation behind the design of the new Youth Zone, said: "Creating a visually appealing, safe and inspiring place for young people to enjoy was a key consideration in the overall design. It's great that the planning application has now been approved and we're a step closer to seeing designs come to life."