Train operator Avanti awarded nine year West Coast Mainline contract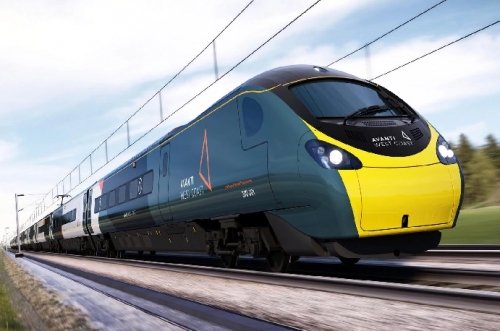 Under-fire train operator, Avanti West Coast, has been granted a new nine-year contract to run the West Coast Mainline, which connects the North West with London.
The operator, part of transport group First, has been the centre of criticism from North West politicians and business leaders over its poor performance, leading to swathes of cancellations and chaos.
In March this year the service was awarded an extension to the contract until October 15, provoking this response from Greater Manchester Mayor, Andy Burnham: "Most people in the North West would have wanted this contract to be removed today. The time for excuses has passed – they either improve or hand back the franchise."
However, the Department for Transport confirmed today (September 19) that it has approved a long term contract to Avanti until October 17, 2032, subject to ongoing DfT approval. However, after the first three years, the DfT said it can cancel the contract with three months' notice.
It said the deal will enable the operator to deliver improved services for passengers, after dramatically reducing cancellations to as low as 1.1% over the past year.
It said: "A long-term contract will allow the operator to plan ahead, giving them the certainty they need to prepare advance timetables, roll out new train fleets and continue their work to improve services – benefitting passengers in both the short and long term.
"This comes after the Department placed Avanti West Coast on two consecutive short-term, six-month contracts and ordered them to develop a recovery plan aimed at addressing poor performance on vital routes – including between Manchester, Birmingham and London – which were brought on by a shortage of available drivers."
It said a recovery timetable was introduced which has seen services increase from 180 trains per day to 264 on weekdays – the highest level in more than two years.
The DfT said cancellations have consistently been below three per cent since March 2023, and as low as 1.1% in July 2023, down from 13% in January 2023.
It said more than 90% of trains now arrive within 15 minutes of their scheduled time, improved from 75% in December 2022.
And more than 100 additional drivers have been trained and brought on since April 2022.
Transport Secretary Mark Harper said: "The routes Avanti West Coast operate provide vital connections, and passengers must feel confident that they can rely on the services to get them where they need to be at the right time.
"Over the past year, short-term contracts were necessary to rebuild the timetable and reduce cancellations. Now Avanti are back on track, providing long term certainty for both the operator and passengers will best ensure that improvements continue."
The Department said it will stay in close contact with the operator and local stakeholders to monitor Avanti's performance as it continues its progress to a sustained recovery.
Under the terms of the deal, the operator will earn a fixed management fee of £5.1m per annum, with the opportunity to earn a variable fee of up to £15.8m per annum based on a number of criteria, including punctuality and other targets.
Avanti is working through a £117m refurbishment programme for its 56-strong electric Pendolino fleet, and it has placed a £350m order for 23 new electric or bi-mode Hitachi trains.
Graham Sutherland, FirstGroup chief executive, said: "Our West Coast Partnership team has worked hard over recent months to deliver improvements for Avanti passengers, including an increase in the number of services in the timetable and high levels of reliability for customers.
"The new National Rail Contract agreed today will allow our team to use its expertise on further improvements. These include programmes to refurbish the existing fleet and to introduce new, more environmentally friendly trains, which will encourage more passengers to return to the network and help deliver the UK's decarbonisation agenda."
In August last year, political leaders in Greater Manchester, and London mayor Sadiq Khan, criticised Avanti West Coast over cuts to a number of services to the capital branding the decision "completely unacceptable".
Later that month business leaders from Greater Manchester reiterated politicians' concerns over the vastly reduced train service between the region and London.
And in February this year Avanti leaders were lambasted over their poor services at The Northern Transport Summit 2023 in Liverpool's Mersey Maritime Museum, after one of its team pondered how the industry can get better at rebuilding public confidence and trust in public transport.
Responding, Northern Powerhouse Partnership chair, Henri Murison, said: "You have got a lot to answer for in asking that question.
"The fundamental point is, if you want people to use the public transport system it does need to be reliable.
"Fundamentally, the disjointed relationship between the Department for Transport and your organisations and the workforce has led to a terrible situation which has disproportionately affected northern cities.
"And I do not care whether or not every argument that Andy (Greater Manchester Mayor Andy Burnham) makes is true in exact detail about quite how terrible it has been, Andy and the northern mayors have been right.
"It has been an economic disaster that we have had these problems for the last few months and I do think, having sponsored this event, you should be really clear to apologise for what you have done to the northern economy before you start talking about how we do a repair job.
"Before the repair job, we need the apologies first, please."