Bristol office market is one of the strongest in the UK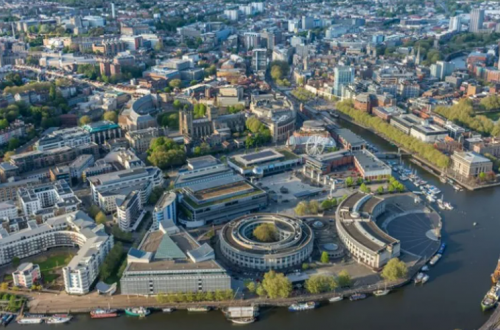 Bristol has one of the strongest office markets in the UK – according to a new report.
The annual report UK Cities Report from Knight Frank ranked Bristol as having one of the healthiest markets of all UK cities.
The report found that occupier activity in Bristol was strong in 2022, with take-up returning to the level recorded before the Covid pandemic.
During the year, Bristol recorded the highest level of annual rental growth of any regional city.
Despite a challenging year, Bristol city centre take-up for 2022 exceeded 600,000 sq ft, higher than the long-term average.
Availability at year-end was 5.8 per cent of total stock, which remains close to an all-time low.
Prime office rents have remained stable throughout the year at £42.50 per sq.
Meanwhile, occupiers are increasingly focused on buildings that provide more than just office space. Tenant amenity and collaboration space has never been more important.
The report also predicted that Bristol's new clean air zone will make the city centre a more attractive environment and free up road space for public transport and cycling.
And with Temple Meads railway station being refurbished, proximity to the station will be an important factor in location choice for existing and incoming firms.
The development pipeline of new space is limited going into 2023 and will underpin rental growth without causing an oversupply.
There is also a question over whether the abolition of a Bristol mayor and the return to a committee run council will have a positive impact on future development in the city.
Ashley Hudson, a partner with the firm, said: "Although the collective take-up for the UK Cities fell short of the long-term average, the market place felt very busy in 2022.
"Despite headwinds created by Covid and more latterly the uncertainty from the UK political and the macro economic landscape, the drive for 'best' has fuelled rental growth for prime.
"Although having risen during the past year, the lack of New and Grade A supply could be a restraining factor to occupier activity in 2023.
"Investors were understandably hesitant in 2022, with the final quarter particularly slow due to the economic and political turmoil.
"More stabilised investment conditions and the recent repricing could serve to increase deal volumes this year resulting in some yield compression. Turbulence within domestic and global capital markets led to rapid market repricing in 2022.
"A defining trend in 2022 was the pursuit of 'Best-in-class', with a sharpening focus on ESG, brand amplification in an increasingly competitive business landscape and talent attraction and retention. Occupiers and investors alike are relentless in their pursuit of the green agenda and the office market is reacting positively."