Opening date announced for venue which has undergone £132m revamp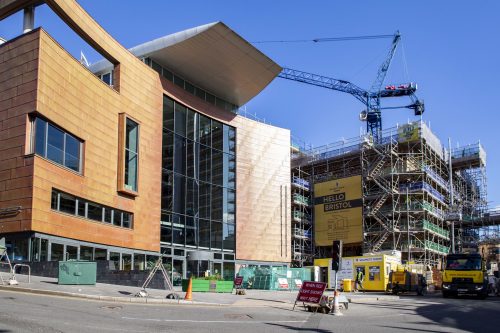 Bristol's main concert venue is to open its doors to the public once again by the end of the year.
The Bristol Beacon, formerly known as the Colston Hall, has been undergoing a five-year revamp which has cost £132m.
The project has been beset by problems which has seen the cost of the work increase three-fold.
But it was announced this morning that the Victorian concert hall will finally reopen in November of this year.
The improvements include new performance spaces alongside the 2000 capacity Beacon Hall, the 500 capacity Lantern Hall and the brand new 200 capacity Weston Cellar.
Louise Mitchell, chief executive of Bristol Beacon, said: "We're delighted to be able finally to confirm the reopening date.
"The team are busy putting the finishing touches to our opening season, where we will be showcasing a number of commissions and UK Premieres, and inviting all of our city's communities into the Beacon to explore the new spaces, celebrating creativity and inclusivity in a way that only Bristol can.
"In the meantime, we're delighted to announce we'll be welcoming back some fantastic artists and festivals and put our first tickets on sale."
Ahead of revealing the full reopening programme, some of the first events to take place in the transformed venue have been announced , including the return of Simple Things Festival for its 10th edition after a five year hiatus since 2019.
Thomas Frost, co-founder of Simple Things Festival, said "The reopening of Bristol Beacon is one of the most significant moments for the city and it will be great to be back at our spiritual home for our 10th edition.
"The Beacon will be such an integral part of Bristol's music scene, championing grassroots and local artists as well as supporting projects and events from every genre of music. We're working with the team to really utilise every part of the building which will give us a great new dynamic for our tenth anniversary."
Tickets are being put on sale for a number of artists who have a long standing relationship with the venue including Jools Holland and Bootleg Beatles, as well as a December show from Sophie Ellis-Bextor, bringing her popular kitchen disco to Beacon Hall, and the acclaimed music collective Penguin Cafe.
December will also see the return of comedy to the Beacon stage with performances announced from John Robins and Ross Noble.