Defence company lands multi-million pound order for military vehicle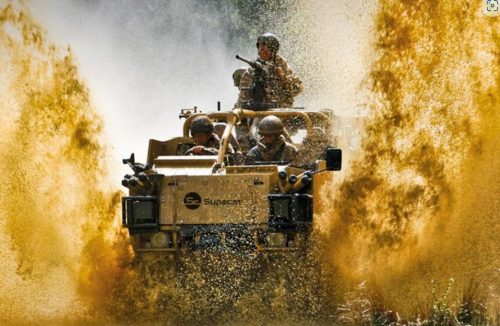 A company which builds military vehicles has landed a multi-million pound contract with the Ministry of Defence.
Devon-based Supacat  is manufacturing 70 High Mobility Transporters for the British Army in partnerships with Babcock.
The work is taking place at Babcock's factory in Devonport.  The contract award for an undisclosed sum could eventually lead to as many as 240 of the light armoured vehicles.
The project is to be delivered between Supacat's manufacturing facilities at Dunkeswell near Honiton and Babcock's Devonport site in Plymouth.
The vehicle was originally brought into service under urgent operational requirements to provide British forces in Afghanistan with an off-road patrol and fire-support vehicle.
Since then, the British Army's fleet has fully utilised the HMT 400 platform, becoming integral to its land tactics and operations.
The HMT platform vehicle has also proven itself internationally and is in service in Denmark, Australia, New Zealand, Norway, and Estonia.
Further export opportunities are currently being explored bringing further investment to the South West.
The contract itself will create 10 jobs within Supacat itself and 90 at Babcock's facilities in Devonport.
Nick Ames, chief executive for Supacat, said: "This is an enormously important contract win for us.
Primarily it further evidences our customer's confidence in our HMT 400 product after 20 years of service. Furthermore it gives us a platform to secure potential export orders and thereby shows how investment in UK products can provide benefit to the wider UK economy. It also allows us to broaden and deepen our relationship with Babcock as a world class engineering partner.
"Above all, this contract win is the result of the unstinting belief and passion of our staff in the product. It is through their hard work and dedication that the business is here to deliver this contract and take the confidence to continue to develop more battle winning and lifesaving equipment in the future."
Tom Newman, chief executive of Babcock's Land Sector, said: "This order is fantastic news for both Babcock and the local community in Plymouth.
"As a world-class engineering partner, we are delighted to be taking a key role in the production of this new phase of the Jackal platform, a truly British designed and manufactured vehicle. We are proud to be playing our part in supporting the British Army's Land Industrial Strategy by securing critical industrial skills and capabilities and enhancing social value, including the creation of 90 new jobs.
"This new contract shows how British industry can work collaboratively to rapidly respond to defence requirements and deliver in short timescales. The HMT 400 series is also not only a battle-proven vehicle but a fantastic export asset in its own right, and our chosen build location in the freeport zone of Plymouth will enhance its export prospects."