Work starts on 12 storey student flats scheme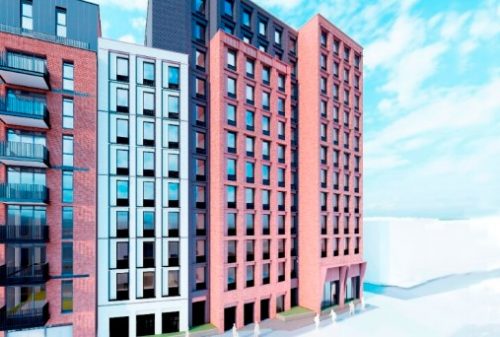 Property firm Madison Cairn has handed Winvic a contract to construct a 12-storey block in Bristol.
The development, which will be home to 367 students, is the second phase of the Redcliff Quarter in the city.
After completing enabling works Winvic has now moved on to groundworks.
The L-shaped building will include a 2,700 sq ft, first-floor roof garden to the rear.
Final handover of the building is due to take place in the first quarter of 2025.
The building completes a wider urban block, adjoining a new build-to-rent project that Winvic is already constructing for Madison Cairn.
Winvic director Mark Jones said: "This repeat business is a testament to strong collaboration and the partnership that we have built with this client.
"Both projects come with their own challenges and deadlines, with this site being particularly constrained on logistics – due to the interface of the adjoining buildings – and the limit space on this city centre location.
"Nevertheless, the Winvic team appointed to the Redcliff Quarter student accommodation project have a wealth of experience and we are looking forward to safe delivery through to 2025."
Madison Cairn principal Aneil Handa said: "This will be one of Bristol's most sustainable and high-quality student accommodation schemes, which has been designed by working in conjunction with Bristol City Council and the local community.
"This is the second project that we are working on with Winvic Construction, and we are excited to build upon our relationship in a partnership approach."