South West museums and libraries to receive millions in government support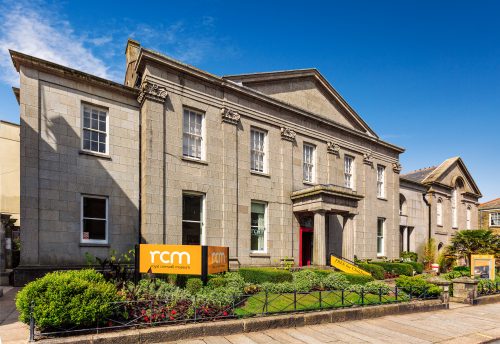 Cultural organisations and museums in the South West have received millions of pounds from the government.
One of the biggest beneficiaries in the region is the Royal Cornwall Museum in Truro which is to get £1.5m worth of funding,
Beneficiaries of the Cultural Investment Fund, announced by Culture Secretary Lucy Frazer, include museums, cultural venues and public libraries across England.
Museums and institutions are sharing a pot of £58.8 million which will see arts venues transformed, upgraded and created as part of the government's plans to make sure everyone, no matter where they live, can access the UK's world-renowned culture.
Arts Council England will deliver the fund on behalf of the Department for Culture, Media and Sport (DCMS).
Lucy Frazer said: "This investment will help to level up access to arts and culture for everyone, no matter where they live.
"Culture helps us create lifelong memories with our families and friends, provides entertainment and joy, and allows us to explore the world around us in new and exciting ways. It can also boost tourism, support local business and drive local economic growth.
"This funding will support brilliant arts organisations to upgrade their venues and create new projects that will be at the heart of their communities."
Darren Henley, chief executive of Arts Council England said: "Investment in creativity and culture is a catalyst for improving well-being and raising aspirations, reinvigorating pride in communities, regenerating high streets and local economies, and bringing people together.
"We are pleased to play a part in delivering the Cultural Investment Fund and this £58 million investment will help create new, or improve existing, cultural buildings and spaces in our villages, towns and cities. By doing so it will support recovery and growth and unlock the creative potential of those who live and work in communities across England."
Duncan Wilson, chief executive of Historic England, said: "Culture, heritage and the arts all contribute to people's sense of belonging and place. These grants will help to reinforce this and we welcome them."
The fund, which totals more than £200 million and was launched in 2019, is made up of three separate streams, the Cultural Development Fund, the Libraries Improvement Fund and the Museum Estate and Development Fund. It is designed to protect and improve people's access to culture, regenerate communities, upgrade buildings and digital infrastructure and use investment to promote economic growth.
In this round of funding, £32.4 million has gone to eight Cultural Development Fund projects, £4.9m to 27 projects as part of the Libraries Improvement Fund and £21.4m has gone to 36 museums through the Museum Estate and Development Fund.
This announcement follows a boost for the cultural sector in the Spring Budget with an extension of tax reliefs for theatres, orchestras, and museum and gallery exhibitions for a further two years. These tax reliefs have already supported thousands of theatre and orchestral productions, galleries and museums across the country, and the extension is set to help the cultural sector continue to attract new talent and investment from home and abroad.
Extending these tax reliefs builds on the support the government has provided to the creative sectors. This includes the £1.6bn Culture Recovery Fund that supported more than 5,000 organisations throughout the pandemic.
North Devon Council is to get £3m under the cultural development fund.
As part of the Museum Estate and Development Fund more than £4m is going to projects in the South West.
They include:
£495,000 to Coldharbour Mill Museum in Uffculme, Mid Devon
£498,000 to The Royal Albert Memorial Museum in Exeter
£185,608 to The Museum of Cornish Life in Helston, Cornwall
£320,000 to Nothe Fort in Weymouth, Dorset
£728,985 to SS Great Britain in Bristol
£367,027 to Tewkesbury Museum in Tewkesbury, Gloucestershire
£1,494,284 to Royal Cornwall Museum in Truro, Cornwall