Airline says economic uncertainty led to decision to pull out of airport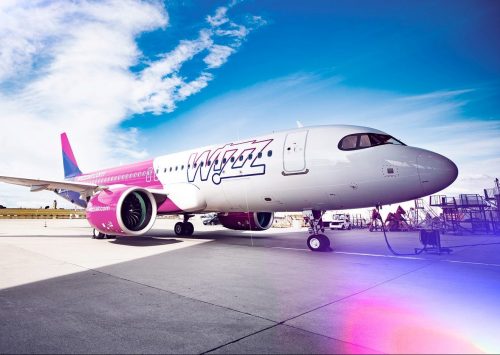 Budget airline Wizz Air has announced it is pulling out of Cardiff Airport after just two years.
The move is a major blow for the airport which is a competitor to Bristol Airport and is used by travellers from the South West.
Cardiff Airport is owned by the Welsh Government and has struggled to recover from the affects of the Covid pandemic on the tourism industry.
The airline's two remaining winter routes to Milan and Bucharest will cease to operate from the end of the month.
Around 40 Wizz Air staff work at Cardiff and they have been offered redeployment opportunities at Gatwick and Luton Airports.
Wizz Air managing director Marion Geoffroy said: "The challenging macro-economic environment and high operational costs including fuel mean that unfortunately we are unable to continue operating from Cardiff Airport.
"We sincerely apologise to our customers in Wales and the South West of England for the disruption and inconvenience that this will cause.
"Our priority now is to ensure that all affected customers are contacted directly with clear advice on their options, and to look after our Cardiff based colleagues and crew.
"Wizz Air continues to offer low fares from eight other UK airports, including Bristol, Birmingham, London Gatwick, and London Luton."
A spokesperson for Cardiff Airport said: "We are deeply disappointed to hear that Wizz Air has decided to cease their operations at Cardiff Airport.
"It is regrettable that Wizz Air has cited the economic climate as its reasons for withdrawing its operations out of Cardiff.
"There has been positive booking trends and very strong passenger demand to travel from Cardiff in 2022 and current booking trends for 2023 remains similar.
"We have been working closely with the airline since 2020 and their latest indications to us last week, were that bookings for this summer are ahead of this time last year, so we see their decision as surprising.
"Our thoughts are with our customers who are impacted by this news and now face disruption to their travel plans for this year, along with our friends and colleagues that are employed by Wizz Air based at Cardiff."
Welsh Liberal Democrat leader Jane Dodds said serious questions now needed to be asked about the future of the airport.
She added: "With a bill of £210m since the Welsh government purchased the airport and no sign of things improving, taxpayers will rightly be asking what value for money they are getting."