Supply of farmland for sale in South West stabilises for first time in five years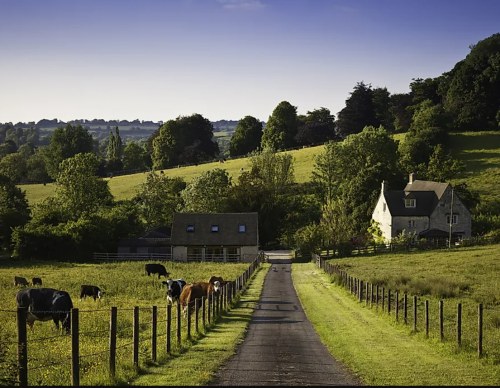 Supply of farmland for sale in the South West remained stable in 2022 for the first time in five years, according to new figures.
Estate agent Savills has reported that supply has dropped year-on-year since 2018, when 31,040 acres were publicly marketed to the end of November.
This year a marginal increase in supply was recorded with 17,600 acres marketed to the end of November, compared with 17,550 in the same period in 2021.
Across England, supply increased by an average four per cent.
Despite supply in the South West stabilising in 2022, demand continues to significantly outweigh supply.
The gap in supply and demand underpinned value growth of six per cent for prime arable land in the South West during the first nine months of last year to an average of £9,710 per acre – with good sized and quality blocks often achieving considerably more.
Lesser quality livestock land has seen the largest increases in value in 2022, rising from £5,583 to £6,516 per acre to the end of September – representing growth of 17 per cent.
Penny Dart, head of Savills rural agency in the South West, said: "Farmland supply has been on a downward trajectory in the South West since 2018, however 2022 brought with it positive signs of recovery.
"However, whilst beginning to return to normality, there remains a growing pool of buyers who are frustrated by the lack of opportunity. These conditions have driven robust price growth in the last year, and high levels of competition for best-in-class property, from smaller farms to larger commercial estates.
"The notable growth of poorer livestock land values is indicative of the continued drive for environmental outcomes, while good sized blocks of quality land in the best locations in the South West have been achieving well above the average – up to £14,000 per acre in some cases."
Dart continued: "Looking ahead, the Lump Sum Exit Scheme's application window, which closed at the end of September, is likely to bolster the number of launches to the market early next year, although in reality the impact of this will be relatively small, with the majority of retirees meeting the scheme rules by surrendering rented land to their landlord or if owned, transferring it to their successors, or renting it out under a Farm Business Tenancy.
"Overall, we anticipate supply to rise modestly, however, we are not expecting the high demand for farmland to be satiated anytime soon, with environmental motivations becoming ever more prevalent as the climate crisis deepens. Alongside this, we expect the taxation benefits and long term outperformance of inflation to remain significant factors in the asset class's appeal. The current gulf between supply and demand is likely to temper any negative impact of the rise in interest rates, with the pent-up demand insulating farmland values from the impact of the economic downturn."
Farmland values increased during 2022 but did not quite keep up with shock inflation. However, farmland has a strong record of outperforming inflation over the medium and long term.
With inflation anticipated to fall in 2023, Savills forecasts GB real value averages for prime arable land to increase by 2.5 per cent annually and poorer quality pasture land to increase by six per cent annually over the next five years.