Pathology firm to create 30 jobs at new South West facility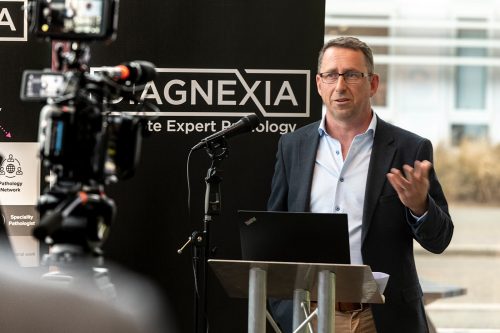 A company which offers pathology services has announced it is expanding into Exeter.
Diagnexia UK Limited, owned by Deciphex, will create 30 new jobs at the facility at Exeter Science Park.
The Exeter will bolster Diagnexia's capacity to provide rapid, accurate, and high-quality pathology services to multiple NHS trusts across the UK and in their facilities in Toronto and Chicago.
Deciphex provides a fully digital, subspeciality-led, remote diagnostic & consult service.
The Deciphex clinical platform, Diagnexia, connects hospitals and laboratories to an international network of subspeciality expert pathologists.  Accessing this network of global expertise on clinical cases ensures the delivery of the highest quality of patient care for healthcare services.
Dr Donal O'Shea, chief executive of Diagnexia UK Limited, said: "We are delighted to expand our presence in Exeter, a city that has consistently demonstrated its commitment to innovation and growth in the healthcare sector.
"Our new facility at Exeter Science Park will enable us to better serve our clients across the UK and beyond, while also providing valuable employment opportunities in the local community."
Prof Runjan Chetty, chief medical officer of Diagnexia UK Limited, added: "The expansion of our Exeter facility is an exciting milestone for Diagnexia, as it enables us to further advance our mission of improving patient care through state-of-the-art digital pathology solutions.
"We look forward to continuing our collaboration with local healthcare professionals and organisations, such as Exeter Science Park, to drive innovation in the field."
The Deciphex Exeter Accession Facility is the central hub for the digitisation and upload of all biopsies to the Diagnexia Platform.
Sally Basker, chief executive of Exeter Science Park, added: "We are very pleased that Diagnexia has chosen to join our emerging health and life sciences cluster at Exeter Science Park.
"We help innovative science-based companies to deliver extraordinary growth and so we are excited to see 450 per cent growth opportunities opening up for Diagnexia with the promise of high value jobs, enhanced productivity and economic growth. We look forward to helping them on their journey."
This expansion has been supported by South West Local Enterprise Partnership through the award of the European Regional Development Fund Inward Investment Support Grant Scheme to Deciphex,