Bristol-based medical company has unveiled product which helps create safer birthing practices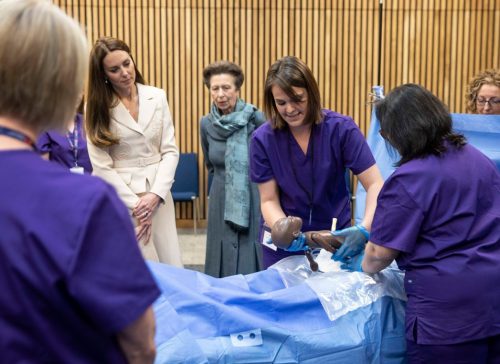 A product developed by Bristol company Limbs & Things is helping medical teams deal with challenging births.
The PROMPT Flex birthing simulator, a lifelike model imitating labour and delivery, is already being used in teaching hospitals around the world.
It has proved already to be a game changer in improving the management of shoulder dystocia.  This is where the baby's shoulders get stuck during birth, which can lead to life changing injuries.
Now, a study carried out by obstetrician Dr Katie Cornthwaite based at North Bristol NHS Trust and the University of Bristol, has shown that using the simulator – or task trainer – is also helping generate confidence in dealing with a rare and challenging complication of Caesarean birth, known as impacted foetal head.
This is an obstetric emergency where the baby's head is low and fixed in the pelvis at the time of a Caesarean section.
Dr Cornthwaite asked obstetricians and midwives in three maternity units in the South West to use the trainer to practice delivering a baby with an impacted foetal head during a Caesarean section, which can lead to injury to the mother and baby.
The study showed that almost all who took part (97 per cent) felt more confident after using the simulator, and said it was a very realistic and a valuable tool.
Dr Cornthwaite said: "Training opportunities for impacted foetal head have been reported as inconsistent and often inadequate. It can be difficult for maternity staff to gain experience of how to manage these less common but high-risk emergencies in real life. That's why birthing task trainers are so important.
"The Limbs & Things trainer allows maternity staff to develop their skills in dealing with situations like impacted foetal head in a safe environment, creating a greater level of both expertise and confidence if the situation comes up in real life."
Anne Allin, commercial director, for Limbs & Things said: "Our PROMPT Flex product, developed in collaboration with the Bristol-based PROMPT Maternity Foundation, is our best established and most popular product. It is the only birthing simulator to show evidenced improvements in maternal and baby outcomes.
"We are very pleased to have been able to assist Dr Cornthwaite with this study. We are confident that it will lead to better training in challenging situations such as impacted foetal head and, in turn, give midwives and obstetricians the skills and confidence required to deliver the best possible outcome for the baby and the parent."
Dr Cornthwaite recently gave a demonstration of the product for Princess Anne and the Princess of Wales during a visit to the new headquarters of Princess Anne's patronage, the Royal College of Midwives, which is also home to the Royal College of Obstetrics and Gynaecologists. The Princess of Wales supports the college as patron.
Limbs & Things has been designing and manufacturing medical task trainers and simulators since 1990.
Based in St Philips, the multi-million pound 200-strong business is now one of the leaders in its field and exports its products to more than 40 countries worldwide.