Telecommunications giant starts moving staff into state of the art Bristol HQ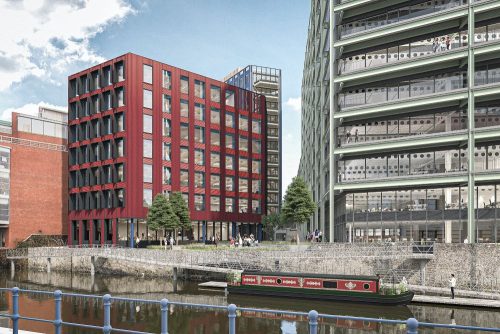 BT's new state-of-the-art offices in the centre of Bristol have welcomed the first of the 2,500 workers who will be housed there.
Teams have started moving into the building, known as Assembly Bristol following the telecoms giant's multi-million-pound investment in the city.
BT's head of the nations and regions Nick Speed has also revealed plans to add another 170 roles by April 2024 – a big boost for the city.
The aim is to recruit locally – hiring the best of the West, with a particular focus on apprentices and graduates, and women returning to work with roles in areas like AI and software engineering up for grabs.
The company is opening several regional hubs including in Birmingham and Manchester.
As part of the company's Better Workplace Programme, BT is hoping moves to new office buildings and the refurbishment of existing spaces will increase productivity.
Elaine Bergin, BT director for colleague experience, said that shared workplaces were "central to BT's future", despite the shift to work-from-home as companies adapted to the Covid pandemic.
Three years in the making, the 190,000 sq ft building brings all BT's South West teams under one roof for the first time and boasts smart building tech, flexible workspaces, shower and changing facilities for staff, a café and restaurant, and more. There is even a wildflower meadow on the rooftop.
The building has been designed with the environment in mind, with all the site's heat supplied via heat pump, and it is great good news for BT Bristol's walkers, cyclists and wheelers with top-notch facilities including 200 cycle spaces on offer.
Bristol's metro mayor Dan Norris said the truly world-class facilities will be key in attracting and retaining world-class talent.
He said: "It's great to see BT's new offices opening in the heart of Bristol. This will bring jobs and growth to the local area and is a vital part of the ongoing transformation of Temple Quarter – one of the most exciting regeneration projects in Europe. Nick and the team have built a new, modern workspace and this demonstrates how firms can combine tech and smart ways of working to really benefit their number one asset – their workforce.
"This will be key in tapping into the talent we know we have in abundance in the West of England, as well as attracting the brightest and best from across the length of the country to make our amazing region even better".
Construction started in early 2019 on the formerly derelict site off Temple Way as part of the multi-million Temple Quarter regeneration scheme led by Mr Norris's West of England Combined Authority.