Developer behind major Bristol scheme to provide temporary housing for refugees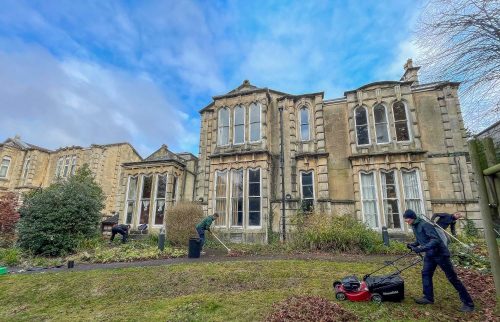 FORE Partnership, Amicala, and Socius, the team behind the development of St Christopher's Square in Bristol, have joined forces with social enterprise ACH to provide temporary housing for refugees in the city.
While the Westbury Park site awaits the outcome of its planning application to become Bristol's "most sustainable integrated retirement community", the development team has transformed a vacant building on the site into a number of apartments for refugees in need of interim housing.
Starting with the refurbished Hampton Lodge on the site, this is the first project of its kind in the city and will provide homes for a small community of refugees from several countries including Afghanistan, Sudan, Russia, and Ukraine who have been granted refugee status in the UK.
Mike Dodd, project director, Socius, said: "As a partnership with FORE and Amicala, we are deeply committed to making a positive impact in the communities we work in, both socially and environmentally.
"While we work our way through the development process, we saw an opportunity to utilise an otherwise vacant site as much needed temporary accommodation for refugees in need of accommodation."
Aurélien Collignon from developer FORE added: "Creating lasting, positive social impact has been deeply imbedded into our vision as a firm since inception a decade ago.  We love partnering with local social enterprises to deliver on that vision, and we have been incredibly impressed with the work of ACH, to ensure those in need can access quality accommodation while they set up their lives here in the UK."
FORE is a certified B Corporation, committing the business to pursue purpose alongside profit and ensuring it meets the highest social and environmental standards.
The building offers one-bedroom properties which are provided fully furnished and fitted with white goods, so residents have a place to call home while they receive support from ACH.
To ensure a level of stability, the residents will have a minimum lease of 12 months and be offered at least three months notice ahead of any future development works starting.
Fuad Mahamed, CEO at ACH, added: "This partnership is most welcome and much needed. The refugee clients we support desperately need safe, comfortable, and affordable housing to begin the process of rebuilding their lives in this country. This project is an important contribution to this journey"
As well as working with ACH, the development team is also providing housing to 90 Guardians, in addition to rent-free space to local groups such as Redland Scouts, and open outdoor space to the neighbouring Westbury Park School.
The proposed plans for St Christopher's Square will see it become the first in a new generation of ultra-sustainable integrated retirement communities.
The scheme will create more than 100 homes for older people looking to live independently for longer, with the reassurance they can age in place and receive increasing levels of support as and when they need it.
The plans will sensitively restore the existing heritage buildings, open the site to the local community and its extensive landscaped gardens. To encourage intergenerational use of the site, the proposals include a café, urban village hall, wellness centre and activity rooms.