Designs for £70m 'Hanging Gardens of Digbeth' development revealed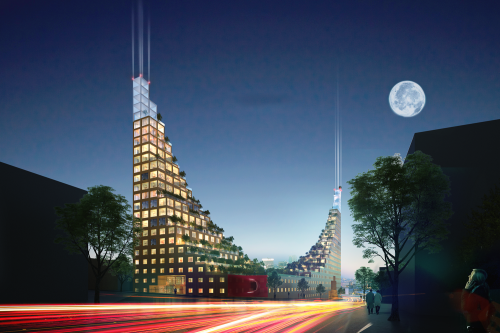 Plans for an incredible £70m residential development in Digbeth that would be backed by a Chinese investor have been revealed.
PGC Capital approached London-based Architects of Invention (AI) to draw up design proposals for the site at High Street Bordesley.
The Chinese funder has already invested in The Jewel Quarter, a 77-bed apartment development that is on site in Birmingham's Jewellery Quarter.
Two 25-storey towers would form part of the Garden Hill development, which AI said is inspired by The Hanging Gardens of Babylon.
The design would have small residential units, with 300 one-bed units of up to 50 sq metres and 200 two-bed units of up to 75 sq metres.
However they would benefit from large shared facilities for communal living and working, including private and shared terraces and a spacious rooftop garden.
The design also proposes ground floor retail onto High Street Bordesley.