Complex Jewellery Quarter apartment scheme set for approval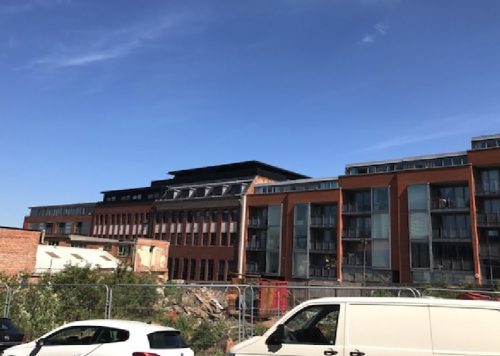 Proposals for a new residential scheme in Birmingham's Jewellery Quarter are set to be approved by the city's planners.
The application for land fronting Carver Street and 120 Pope Street proposes 30 new apartments, with a mix of one, two and three-bedroom units.
The site has had a difficult past but applicant Complex Development Projects is confident the scheme will progress after the proposals attracted renewed support from the Greater Birmingham and Solihull LEP and the finance arm of Birmingham City Council, Finance Birmingham.
The site of the development, a derelict printing works behind the former George and Dragon pub – now renamed The Pig and Tail – has previously attracted the interest of developers.
However, an early attempt to redevelop the site for a new hotel stalled in 2009 after the previous developer went bankrupt.
Work on the initial scheme saw excavations start on what was to be the basement of the new hotel.
However, following the collapse of the previous developer, all work ceased, leaving the site with an unwanted legacy of an aborted build.
It is intended that the new build will comprise seven one-bed apartments, 19 two-bed apartments and four three-bed apartments. The mix includes nine duplex units.
The proposed development will form two blocks, varying in height from three/four to five storeys due to the slope on the site.
The block fronting Carver Street will have the appearance of four individual buildings with a three-storey building adjacent to the pub referencing a 19th century townhouse. This would adjoin the four-storey aspect, which will also reference a 19th century townhouse.
The next building, would be five storeys, has been designed to reference early 20th century industrial units, while the final building in the row would also be five storeys and have a similar industrial look.
On the shorter Pope Street frontage, the proposed block would have the appearance of three buildings with a three-storey building adjacent to the pub and resembling a 19th century townhouse.
This would be attached to a similar four-storey building also having a townhouse appearance. The third building would be five-storeys high and have the similar industrial look.
A report to tomorrow's (Thursday) planning committee states: "The proposals for this site respect the site's historical context whilst proposing a sensitive redevelopment scheme. Their construction would resolve a difficult, long vacant gap site and stitch back together the built fabric thereby enhancing the Jewellery Quarter Conservation Area and the other heritage assets in the vicinity."