Developers reveal major stumbling block to £60m apartment scheme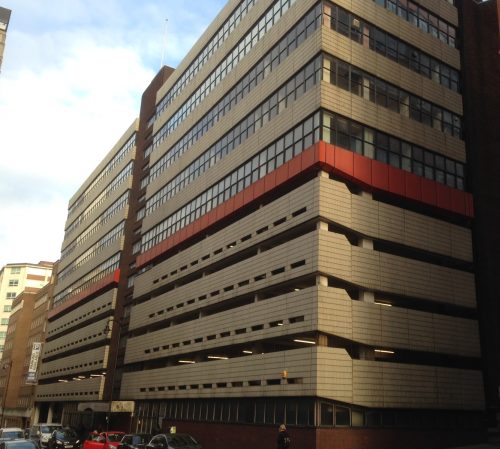 Developers have revealed a major stumbling block over plans for a new £60m apartment scheme in the heart of Birmingham's business district.
Stamford Property Investments plans an ambitious redevelopment of the 10-storey Lionel House in Lionel Street, which would complement a residential refurbishment of the adjoining Beaufort House, which occupies the corner of Newhall Street and Lionel Street in the Jewellery Quarter Conservation Area.
Stamford has used special purpose vehicles Beaufort House Developments and Lionel House Developments to acquire the two buildings over the past year in order for the full scheme – which would comprise 300 apartments – to progress.
"When completed, both schemes will represent a c£60m investment into Birmingham. To date, over £15m has been spent on these projects in acquiring the sites and enabling works, none of which has been funded by debt," said Stamford.
"These schemes follow our last successful project in Birmingham at Elliott Road in Selly Oak, which was the brownfield site development of Selly Oak Court, a 329-bed direct-let student accommodation campus, which was sold in 2015 to M&G Investments."
It has already secured permission for the Beaufort House element of the scheme and is now marketing the new apartments off-plan via its agents.
The next phase of the redevelopment scheme would see the demolition of Lionel House – former base of Post Office Counters – which comprises a six-level multi-storey car park with offices above.
However, the developer faces a tough time convincing Birmingham City Council to grant permission for the demolition.
It said: "We very much see the development of Beaufort House and Lionel House as a homogenous development in many ways which, whilst physically separate and aesthetically different, would share apartment design ethos across both schemes, together with sales and marketing efforts.
"Our intention for Lionel House is to develop a Build to Rent / Private Rented Sector development and we are close to agreeing heads of terms on the forward purchase (subject to planning and completion) with one of the world's largest insurance and investment management companies who we understand are well known to Birmingham City Council."
Stamford put the case for the building's demolition to Birmingham City Council in July, but the proposals were knocked back by planning officers during preliminary discussions because the developer could not offer a replacement scheme.
The developer said it was up against a tough schedule and in order to make the scheme economically viable, it had to begin demolition at the start of 2018.
It has now grasped the bull by the horns and submitted an application for the demolition of Lionel House.
In a supporting statement, it said: "From a simple business economic perspective, if the demolition start date (is) delayed beyond the start of next year, the scheme would become uneconomical to commit such significant development plans and as such, we would likely look to retain the car park as it is which would be a real shame for Birmingham."
It said a replacement for Lionel House would follow demolition although the scheme could be delayed by a year.
It added: "Lionel House Developments is fully committed to continuing our investment into Birmingham, but this can only be on the basis that the council remains supportive of development and understanding of the constraints and issues faced by all developers.
"In turn, we fully understand the challenges faced by Birmingham City Council in approving early demolition, and intend to try and respond to these in a mutually productive way."
As an interim step, it has submitted proposals to use the footprint of a demolished Lionel House as an interim public realm scheme; in essence, a hard-landscaping park.
Some limited planting is proposed to add interest to the slab, while coloured cement fibre board hoardings with artwork would be used to screen a retained substation.
There would also be bonded gravel and timber decking, with curved benches and pre-cast individual seating for use by occupants of the surrounding buildings.