Work starts on £53m Jewellery Quarter apartments scheme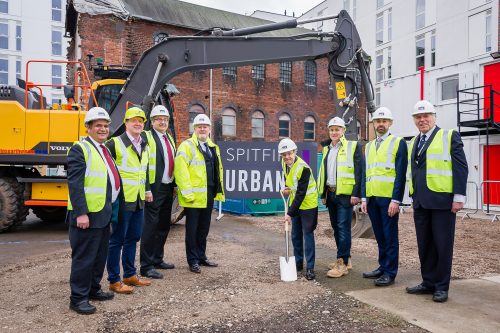 Work has started on a new £53m apartments scheme in Birmingham's Jewellery Quarter – the second major scheme to begin in the area in the space of a week.
Newhall Square is being developed by Spitfire Urbane and forward-funded by institutional property investor Legal & General.
The Build to Rent (BTR) project aims to capitalise on the popularity for apartment space in the historic Jewellery Quarter.
Located on the site of the city's former Science Museum, Newhall Square will see 220 new apartments, some canal facing, together with 7,500 sq ft of ground floor commercial space and a public square.
The project is the first step into the Build to Rent sector for Spitfire, with the event also marking the launch of Spitfire Urbane. The new brand, launched by Spitfire Bespoke Homes, will build on the housebuilder's success by focusing on high quality sophisticated city centre living, delivered through a combination of Build to Rent schemes and open market developments.
The start on Newhall Square comes just days after work began on the £28m Gilder's Yard build-to-rent scheme in Great Hampton Street.
The beginning of construction work, which will pave the way for 156 new apartments, follows a deal which saw the UK's largest listed residential landlord, Grainger, agree to forward fund and acquire the private rented sector (PRS) development from Blackswan.
To celebrate the start on Newhall Square, a ground-breaking ceremony took place attended by representatives of the key parties involved in the project, together with West Midlands Mayor Andy Street and Birmingham city councillors.
Mr Street said: "I am delighted to have been invited to celebrate the start of a project which will help to make such a positive change to Birmingham's Jewellery Quarter. Not only will it create much-needed new homes in the city centre, but it will also revitalise a number of listed buildings, helping to ensure Birmingham's rich history continues to play an integral role in its bright future.
"It is also wonderful to see local businesses, such as Spitfire and IM Properties, continuing to invest in the region, recognising the fantastic opportunities here."
David Jervis, managing director of Spitfire, added that Newhall Square was a key milestone in an important project for Birmingham's Jewellery Quarter.
"With over 50% of young professionals and millennials in Birmingham now residing within 1km of the city centre, Build to Rent schemes such as this one are an excellent way of meeting the increasing demand for affordable, quality rental accommodation in metropolitan areas," he said.
"Newhall Square is Spitfire Urbane's first project, and we are considering future opportunities to increase the accommodation offering within the city."
Dan Batterton, BTR Fund Manager at LGIM Real Assets, said: "We acquired this site just over a month ago and have now already started construction. This speed of delivery is vital to help to address the supply demand imbalance in the city. With a current population of 1.1m, the population growth of Birmingham is the third fastest in the UK, however available housing stock is at a record low and is exacerbated by weak levels of new house building in recent years.
"Spitfire has an outstanding record for creating unique homes and share our values of wanting to provide high-quality, affordable and professionally-managed rental accommodation."
Pictured at the groundbreaking ceremony are, from left: Chaman Lal, Dan Batterton, Peter Griffiths, David Jervis, Andy Street, Frank Walsh, Richard Perry, Peter Douglas Osborn.