Costs of Carillion collapse rise at Midland Metropolitan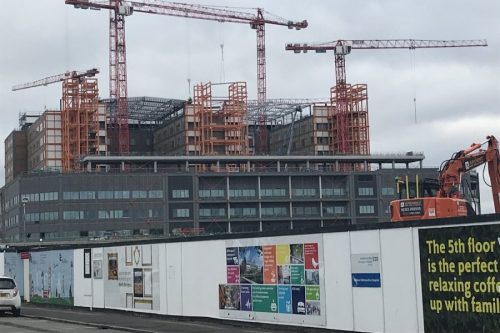 The NHS Trust behind the Midland Metropolitan Hospital has increased its estimate of the costs of deterioration of the part-built site to £15m.
It has also set out a forecast of £46m of additional costs for the build following the collapse of contractors Carillion.
A private board meeting at Sandwell & West Birmingham Hospitals NHS Trust last month agreed the need to terminate the current private finance arrangements. It was also decided to make progress on an early works contract to accelerate completion and part-remedy deterioration, and assess two options to finance and complete construction.
One option is to create a new Private Finance 2 (PF2) vehicle to complete the work. This option sets out securing a contractor in late 2019 with the hospital completed by March 2022.
The second option, which it understands is being considered by Government, is to seek government investment to fund a contractor to finish the work.
Trust chief executive Toby Lewis has sought to address "visibly unhelpful myths", including that the existing build would need to be demolished and that the timetable is unknown.
He said: "We have two years' building work and three and a half years to finish the project.
"Unless we have a second contractor failure after commencement the set timetable is achievable. That is why great attention must be made to the stability of any incoming contractor."
The development was plunged into crisis when Carillion appointed liquidators in January. The Royal Liverpool University hospital, the Midland Metropolitan hospital and the Aberdeen western peripheral route were three UK projects that caused the Wolverhampton-based giant serious problems.