West Midlands search launched for people who want to Now Teach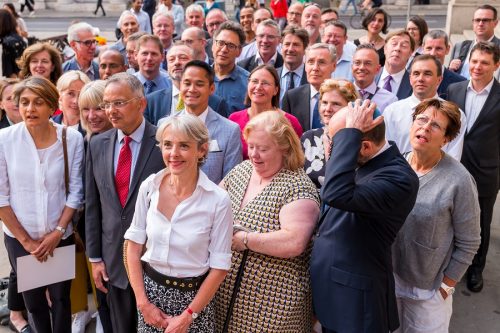 An organisation which places experienced professionals into the classroom as trainee teachers is searching for its first cohort in the West Midlands.

Now Teach was co-founded by former Financial Times journalist Lucy Kellaway, who decided after more than 30 years as one of the country's leading business journalists to retrain as a maths teacher.

After two years the organisation has already placed Kellaway and 121 other trainee teachers into more than 40 schools, mostly around London. It is now expanding its geography as part of its long-term plans to operate across the country.

"It's really, really important for us to come to the West Midlands," said Kellaway. "We started in London but it was always clear to us that we would expand into areas with need.

"The West Midlands has a lot of schools that need teachers with experience. We can have a lot of impact on kids in the area."

The aim is to have 20 Now Teach teachers in the region's schools in September.

Kellaway said: "What we are looking for is to cast our net as broadly as possible. Maybe someone who has done a couple of decades – it could be much more or it could be less – of doing other things.

"Kids need teachers with breadth. We have had scientists, lawyers, accountants…and an ex-monk."

They are looking for people who have already succeeded in one walk of life and who want a new, quite different challenge.

Those already signed up in the West Midlands include a 52-year-old IT expert who is reprogramming to teach biology, a 58-year-old geologist and specialist librarian who will be teaching geography, and a 44-year-old dentist who will get his teeth into the chemistry syllabus.

On Wednesday, Now Teach is holding a school experience event in Birmingham during the day and an after-work event hosted by Kellaway to share information with people who are thinking of a career change.

"The most important thing is that they must really want to do it," said Kellaway. "It is a very difficult job and if you don't really want to do it, you won't get through those first difficult days.

"They also need obvious things like resilience, being good at communicating – and they must really like teenagers."

Although she says that everyone is different, there are a couple of common themes emerging from the recruits.

"A huge number of people have a teaching gene, maybe they had a parent, sister or a child who was a teacher," she said.

"A lot of others have had something happen in their lives that has caused them to take stock and ask 'am I doing what I want to do?'. For me it was the death of my father."

She decided that 31 years was long enough to spend writing about what other people were doing (and usually doing badly – her acerbic columns pricked the pompous on a weekly basis). Realising that she felt "post-status" and wanted to be useful, she followed her mother and daughter and daughter into teaching.

Kellaway said: "Teaching globally is fantastically low status and that's a worrying thing.

"But there is something a bit strange. Although the status of teachers is low, the status of Now Teachers is very high.

"Nearly 70% of them said they felt their status in the eyes of others had gone up. I think that's because meaning changes as you get older."

Now, instead of wondering if anything at all was achieved during a day filled with meetings, she takes satisfaction from the idea that her students leave her classroom with a better understanding of simultaneous equations than they had an hour earlier when they walked in.

At the same time she is trying to solve her own, much grander simultaneous equation. Now Teach is matching up the education sector's need for more teachers, especially in STEM subjects and languages, with this emerging generation of people who feel they have reached the end of their first career but have years of energy left that they want to use with purpose.

Not that it is a challenge to be taken lightly.

"I have found personally it's both the most difficult thing I have ever done and the most rewarding," added Kellaway. "It's been worst than my worst nightmares and better than my best dreams."

If that sounds like your idea of fun, she would like to meet you. And so would hundreds of local schoolchildren.