Property People: CBRE hires senior director and head of development advisory; Hotels specialist checks in to LSH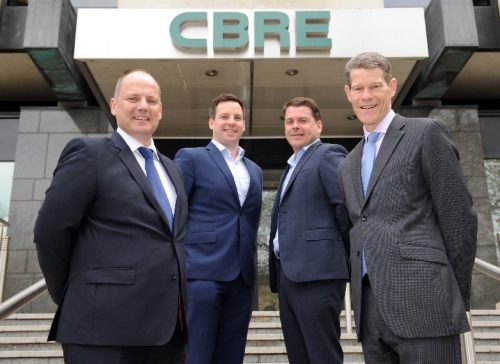 CBRE has appointed David Currie as senior director and head of development advisory in Birmingham.
Currie has joined the property consultancy firm from Public Sector Plc (PSP), where he was regional director for the Midlands, specialising in partnering local authorities to generate better capital receipts or increasing rental returns by unlocking additional value for residential, mixed-use and commercial development.
Prior to joining PSP in 2017, he held senior roles at One Property Group, Hawk Developments and Barteak Developments. He was also an associate director at Richard Ellis in London, before its merger with CB Hillier Parker to create CBRE.
Currie has advised on a number of major commercial and residential property projects including Stockley Park, a 1.8m sq ft office park near Heathrow, the redevelopment of the former Polymer Latex factory in Bromsgrove for new housing and the proposed relocation of Warwick District Council's offices in Leamington Spa.
At CBRE, he will use his experience working with the public sector to advise on bringing forward the development of land by introducing funding opportunities in all market sectors across the wider West Midlands region.
Martin Guest, managing director of CBRE's Birmingham office, said: "We are really pleased that David has joined us at what is an exciting and busy time for our development and residential land team. This is a growing and increasingly important part of our regional business, given the challenges and opportunities being created by the housing sector.
"David's wealth of experience and contacts within the industry mean he is best placed to help us capitalise on the opportunities."
David said: "Having worked client side for a number of years it's great to be back on the consultancy side at CBRE after more than 20 years away and I'm looking forward to getting reacquainted with old colleagues and contacts.
"There is a real need and appetite for delivering more regeneration led schemes in the Midlands to re-position town centres through development, whilst meeting the Government's housing targets.
"To do this, collaboration between the public and private sector to help unlock development is crucial and this is where I hope to bring my experience to bear."
:::
Hotels specialist Charles Jones has checked in to join national commercial property consultancy Lambert Smith Hampton (LSH).
Jones has been appointed associate director within the capital markets team in the Birmingham office, with a focus on the hotels sector across the Midlands.
"I'm excited to join Lambert Smith Hampton where I'll be working closely with a highly skilled national hotel specialist team. Simon Stevens, David Creamore, Martin Davis, Dan Whittaker and Hugh Anderson are all industry leaders and very respected by operators within the sector," he said.
"I'll be working hard to advise on a variety of transactions including independent, corporate, single assets, and portfolios, and developing relationships with existing and new clients."
He added: "LSH has departments across the entire property spectrum, from building consultancy, lease advisory, planning and development, auctions, property finance and business rates,and I believe sitting closely to all these teams will help me develop my skillsets."
Jones worked in London for three years at CACI before moving to Birmingham to join a specialist advisor for buying and selling businesses. He has over five years' experience in hotels and licensed property brokerage.
Adam Ramshaw, regional director for Midlands and North and head of the capital markets team at LSH in Birmingham, said: ""Hotels is a growth sector within LSH. Our team knowsthe market and our exceptionally experienced professional hotel brokers and RICS valuers are specialists in their field.
"Charles is a very welcome addition to the hotels team. His knowledge of the Midlands market and the sector in general is impressive, as are the results he has achieved in completing many hotel transactions."