Bullring owner to raise £825m to fight retail crisis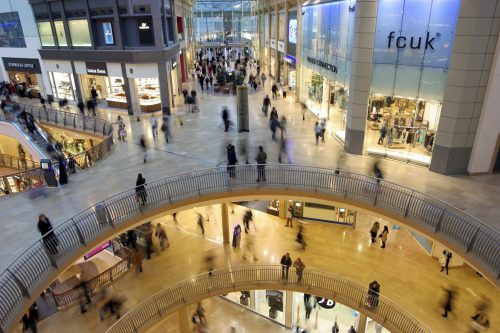 Shopping centre owner Hammerson is to raise £825m in a rights issue and the sale of its stake in a portfolio of European sites.
Its plan for a £552m rights issue has been backed by its two largest shareholders, APG and Lighthouse. Hammerson is being forced to raise money with its share price 80% lower than at the start of the year, a reflection of the crisis in the retail property sector.
It is also selling its 50% stake in VIA Outlets, a portfolio of 11 retail hubs in nine European countries, for £274m.
Hammerson wants to refocus its portfolio towards flagship destinations in the UK and Ireland, which include the Bullring and Grand Central in Birmingham and Highcross in Leicester.
It also plans to invest "in the medium term" in its mixed-use City Quarters development opportunities, such as Martineau Galleries in Birmingham and the Victoria Gate Hotel scheme in Leeds.
Hammerson chief executive David Atkins said: "Today we have announced a series of transactions to recapitalise the business and reduce leverage by a quarter. This will help us to deal with these unprecedented conditions while enabling us to reposition Hammerson further."
The property group said it "intends to increase the scope of its disposal programme as soon as market conditions stabilise", to raise further cash.
Its other Midlands assets include Elliott's Field Shopping Centre in Rugby and Forge Shopping Park in Telford.
Hammerson is also introducing a new leasing model in the UK to include "more flexible leases, rebased rents at more affordable levels, indexation replacing the existing rent review system and an omnichannel top-up element".
It believes this approach will provide a income strem that is more sustainable and therefore support capital values.
Atkins said: "UK's historic leasing model has served its time. It is outdated, inflexible and needs to change."
In a statement to the stock market, Hammerson said that prior to Covid-19 it had been delivering against its strategy of reducing debt, progressing disposals, and making significant steps to shift the brand mix.
It made revaluation losses of £939m while its net rental income dropped 44% in the first six months of the year.
Atkins added: "The extraordinary disruption caused by Covid-19 on the retail property sector, the economy and society as a whole is reflected in these half year results, however, in recent weeks we have seen an encouraging increase in footfall as confidence begins to return amongst visitors to our flagship destinations."
However in July footfall was still down 51%, with its flagship venues being predominantly in city centres and so badly affected by the huge reductions in office working and public transport us.