Plans revealed to create new business and commercial quarter in Solihull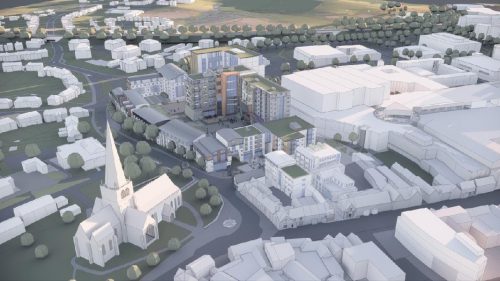 Solihull Council has announced plans for the potential redevelopment of the Council House and Civic buildings which will pave the way for the creations of a business and commercial quarter.
Dubbed 'Eastgate' the council says the 5.66 acre site in the town centre adjacent to the High Street is a strategic location connecting to the retail core of the town, making it a "compelling investment opportunity for the area".
The council has set out its plans in a Prior Information Notice, which outlines its intention to seek a development and investment partner for the project which includes delivering new homes, business spaces, public squares and civic accommodation and the potential for an improved cultural and arts offer.
At the opposite end of Homer Road plans are already progressing for the delivery of Westgate, a landmark office scheme with capacity to deliver over 10,000 sq m of Grade A office accommodation, as well as flexible co-working and collaboration space.
Cllr Ian Courts, leader of Solihull Council, said: "Solihull Town Centre benefits from a proven track record of attracting international occupiers and investment, supporting a strong commercial and residential market. The council is determined to support our retail and commercial centres by being an active partner in their future. This is more important than ever in the current climate as all sectors plan their reset and recovery from the Covid-19 pandemic.
"We recently launched our economic recovery plan for Solihull, which identifies short, medium and long term interventions to mitigate the impact of the Covid-19 pandemic on the Solihull economy. We know that key factors such as its economic dynamism, well-balanced sector profile, and highly-qualified workforce mean that Solihull Town Centre is well placed to lead in this recovery. That is why we are prioritising bold and exciting town centre developments such as Eastgate, which are about looking ahead and planting the seeds for our future prosperity.
"This important scheme will show how the council is taking a proactive approach to future development and will reflect its ethos around demanding the highest standards of design while placing environmental concerns, sustainability and the climate challenge at the heart of everything we do.
"The council is seeking interest from a development partner for Eastgate to work with us to deliver our shared vision and ensure that we create a vibrant new quarter for our town."