'We are big enough to know; the right size to care'
Johnathan Dudley is the Midlands & South West managing partner and head of manufacturing at Crowe. His portfolio includes substantial manufacturing businesses, aerospace manufacturing companies and specialist retail concerns together with various owner managed business and professional practices. He is adviser to several aerospace manufacturers including the Airbus, Rolls Royce and BAE systems supply chains.
---


Variety helps in the current climate. The most enjoyable aspect of my job is  the sheer variety of what I do and being able to help clients achieve their ambitions. Helping businesses plan their strategies and actions to achieve survival and success in the post-Covid era.
Time and resource is the biggest challenge facing businesses at the moment. Lots of stuff was put on hold during lockdown with deadlines being extended to assist but now that stuff is starting to move again, its all being really compressed into a short timeframe this is providing planning and delivery pressures across our profession.
Technology has saved us. Without a doubt automation and cloud based accounting and auditing has changed the accountancy industry. The recent events would have been catastrophic for our business and the profession if it had happened just a few years ago. In the event, restraint on us continuing what we do has been almost entirely client driven where they have had more pressing concerns to address than the annual audit! Happily, our drive to automate and work in the cloud has rubbed off on many of our clients which has helped then continue to operate their businesses during the lockdown restrictions.
For our part, we have been able and continue to be able to function agilely and remotely; though of course, the opportunity to engage in socially distanced human interaction rather than playing 'celebrity squares' with Zoom or Teams is of course welcome!
What's in a name? Our vision and purpose is encapsulated in the mnenomic CROWE and our mottos, run from that.
Clients… we are focused on our clients helping them make Smart Decisions that provides Lasting Value now and in the future
Relationships… we care about creating long lasted relationships as Trusted Advisers
Opportunities… we create opportunities to help our clients achieve their goals and for our people to realise their full potential
Working Together… ee work as a team both with and for our clients. We have a 'Collaborative Mindset'
Excellence… we are committed to excellence in all we do.
Our firm prides itself on the above and also capability to deliver  real solutions for real people and businesses solutions. We are big enough to know; the right size to care.
Look to the past to see the future. So many of the great leaders in business and politics these days have their weaknesses ruthlessly exposed by the media. So though I'm sure that they had similar flaws; I tend to look to characters in history for inspiration. A long time hero of mine is William Wilberforce who took on, what was an unpopular (at the time; especially with those in power who made lots of money from it) yet, of course, totally right, cause, in first the abolition of the slave trade and then slavery itself; because it was the right thing to do. As a result, his legacy stands proud, over 200 years later. If I can achieve even a fraction of that legacy by 'doing the right thing', which sometimes won't be the most popular, then I'll be very happy.
Time to sail away. I relax by spending time with my family and friends and especially when I can get to my cottage in Cornwall, where I also have a small boat, 'El Contador'.  I also collect guitars and play (badly!)
---
Appear in your own In Profile feature by signing up for a Business Profile on TheBusinessDesk.com.
T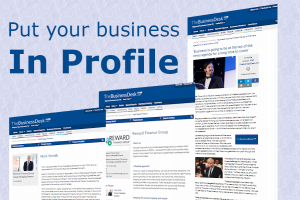 he company and individual profiles on TheBusinessDesk.com are designed to help our clients build corporate and individual awareness within the regional business community and benefit from TheBusinessDesk's traffic and visibility in the business community and the search engines.