Modular facility provider completes hospital theatre and ward complex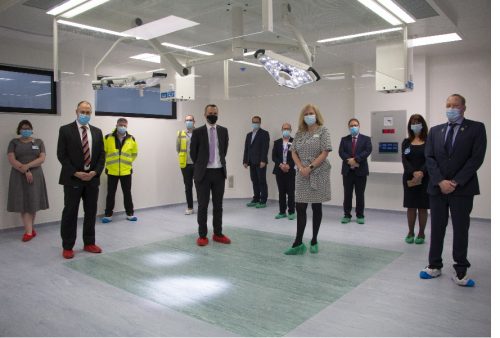 Cheshire-based modular construction company, ModuleCo Healthcare (MCH), has delivered a new state-of-the-art theatre and ward complex at The Royal Orthopaedic Hospital in Birmingham.
The two-storey building comprises four operating theatres, a six-bed recovery suite, a 12-bed inpatient ward and an eight-bed ward.
These facilities will enable the NHS Trust to treat 2,000 more patients annually and the development has increased theatre capacity in the hospital by 40%.
Ellesmere Port-based ModuleCo Healthcare worked alongside its manufacturing partner, ModuleCo, on the flagship scheme, which was completed in two phases. The first phase was finalised in 2019, while the second was made patient-ready in late-December 2020.
Prof Phillip Begg, executive director of strategy and transformation at the Royal Orthopaedic NHS Foundation Trust, said: "Building modular has been of great benefit, allowing us to continue caring for patients with minimal disruption to our services.
"We're proud of the partnership we have developed with ModuleCo Healthcare and the result is an amazing complex that will allow The Royal Orthopaedic Hospital to treat more patients in a modern environment that meets their needs."
Alan Wilson, ModuleCo Healthcare managing director, said: "We're thrilled with the work we have completed at The Royal Orthopaedic Hospital. It's a fantastic feeling to work on a project that truly delivers social value for the local community, especially at such a challenging time for our NHS. Capacity issues are an ongoing problem, so it's great to offer a helping hand, wherever possible.
"For us, the scheme is a flagship development, demonstrating exemplary standards that we'll look to model moving forwards.
"We're proud that the building we provided represents the very best that the modular construction market has to offer.
"Both ModuleCo and MCH have a very strong relationship with the Trust, which has been instrumental in the success of this scheme.
"We're looking forward to continuing this partnership and hope to return to the hospital to deliver high quality facilities whenever they are next required."