Work starts on 50,000 sq ft data centre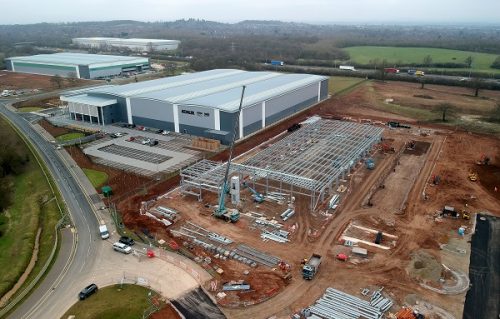 Work has started on a data centre at the Worcester Six Business Park for one of Europe's largest data-hosting companies.
Property developer Stoford secured planning for a facility of more than 50,000 sq ft for IONOS and its subsidiary UK brand, Fasthosts.
Sustainability is at the forefront of the development, with renewable energy being provided by solar photovoltaic panels, which cover the entire roof, while the wall and roof cladding uses Tata Steel's Confidex Sustain to create a carbon-neutral building envelope.
Building contractor Benniman Construction says it will complete the scheme in August
Edward Peel, development manager at Stoford, said: "We have made a really positive start to 2021, with works on the new facility for IONOS commencing within a few short weeks of planning approval from Wychavon District Council.
"We've been working closely with IONOS to get to this stage and are looking forward to delivering Wychavon's first data centre. IONOS is a world-class business that has recognised the strengths of the Worcester Six Business Park, such as the strategic location and excellent infrastructure links."