Fit-out of Birmingham's 10 Brindleyplace underway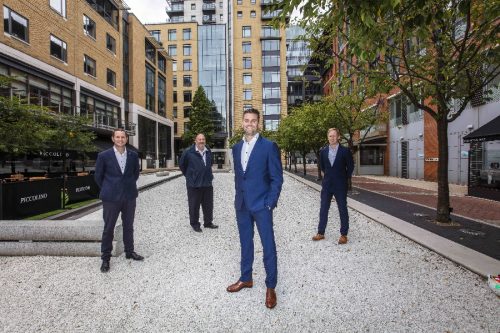 Work has begun on the next phase of Birmingham's biggest office refurbishment scheme at 10 Brindleyplace on behalf of CBRE Global Investors.
Willmott Dixon Interiors has started fit-out works as part of the £38.8m refurbishment of the landmark Birmingham office block.
It follows the completion of the internal demolition of the building, which has been stripped back to a concrete shell, and a series of structural alterations to the office area.
The redevelopment will combine buildings 10 and 8 Brindleyplace into one building to create a single floor by floor open office space of 212,000 sq ft over12 floors and deliver one of Birmingham's largest available floorplates at over 27,000 sq ft.
Occupier amenities will include new fitness facilities, with a fitness studio and bouldering wall, cycle storage for 100 bicycles, electric vehicle charging and two communal landscaped roof terraces. A suite of 12 new lifts will also be installed.
Phil Crowther, director at Willmott Dixon Interiors, said: "Our project team is making excellent progress in the reinvention of existing office space at 10 Brindleyplace. We're looking forward to delivering a high standard of fit-out to modern CAT-A standards and a range of building amenities focused on the health and wellbeing of occupiers. As a business we are committed to supporting the development of a greener built environment and have set ourselves some of the toughest science-based sustainability targets in the industry. It is pleasing to be delivering one of the most sustainable office environments that Birmingham will have to offer for many years to come."
Willmott Dixon Interiors is delivering the refurbishment of 10 Brindleyplace on behalf of CBRE Global Investors, with Willmott Dixon Construction providing specialist structural elements.
The project team also includes Thamesis as development manager, Associated Architects, RLF as quantity surveyor, project management by Venture, the specialist project management team within Workman, structural engineer Cundall, M&E engineer Couch Perry Wilkes and facade consultant, Wintech.
Work is expected to be completed on the refurbishment of 10 Brindleyplace in Q2 2022.