Mailbox REIT becomes first company to have shares admitted to new property-focused stock exchange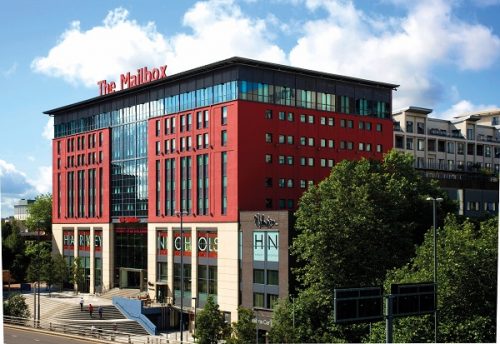 Mailbox REIT, which owns the 700,000 sq ft mixed-use Mailbox scheme in central Birmingham, will this morning (May 14) become the first company to have its share admitted to trading on the International Property Securities Exchange (ISPX).
Mailbox REIT has issued 84,850,000 Ordinary Shares with a nominal value of 10 pence. Trading will begin at 9am today.
Meanwhile, the company says it has raised £25.9m from a number of institutional and family office investors including IWG, theflexible workspace provider, which is also an occupier of the Mailbox. M7 Real Estate will retain ownership of approximately 70% of the company's share capital when trading starts this morning.
WH Ireland Limited is acting as IPSX lead adviser.
IPSX is a new Regulated Investment Exchange regulated by the FCA and is the world's first such exchange dedicated to the initial public offering and secondary market trading of institutional grade commercial real estate assets. IPSX Wholesale is a market exclusively for institutional and professional investors and for issuers with an asset or assets that have a minimum market value in excess of £50m.
is currently in the process of converting level one of the Mailbox from retail into 50,000 sq ft of flexible office space which will be operated by IWG plc under its Spaces co-working brand under a new 10-year agreement. The innovative new arrangement will see occupiers of the Spaces offices pay rent directly to the Mailbox REIT with IWG's management fees based on a percentage of rent received.
Over the next three to five years, the property will be further repositioned for growth as a pre-eminent 'Live Work Play' destination.
Stephen Barter, chairman of Mailbox REIT, commented: "In becoming the first company to be admitted to and have its shares traded on IPSX, Mailbox REIT has carved out a unique place in the history of real estate capital markets investment. The Board and I look forward to working on behalf of the Company and its shareholders as we emerge from the worst of the pandemic and towards a brighter outlook where Birmingham is set to benefit from positive structural trends, including continued decentralisation, which will help support the Mailbox's target returns alongside the active asset management plan already underway."
Richard Croft, executive chairman of M7 Real Estate, added: "M7 is incredibly proud to be part of this landmark occasion in our sector and building on this momentum we are now advancing our plans to bring Bridgewater Place House in Leeds to market as the second IPO on IPSX in the coming months. Bridgewater Place House is another flagship regional UK office building, being the tallest building in Yorkshire and offering income returns underpinned by strong tenants such as EY and multinational law firms DWF and Eversheds.
"The Mailbox offers long dated income streams, underpinned by very low-risk high-profile tenants, as well as significant income and value enhancement potential. The investment is further supported by the strengthening fundamentals of the Birmingham market, which is attracting growing occupier demand with a number of major blue-chip companies moving into the city, as seen most recently with Goldman Sachs International's announcement of its intention to open a technology centre there. With an improving outlook, an expected economic recovery and by advancing our strategic plans for Mailbox REIT, we are well positioned to deliver for investors as a publicly traded company on IPSX."